National Assembly of the Republic of Serbia / Activities / Activity details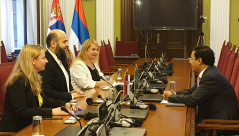 6 June 2019 The Head of the PFG with Saudi Arabia in meeting with the non-resident Ambassador of the Kingdom of Saudi Arabia
Thursday, 6 June 2019
Intensifying Cooperation between Serbia and Saudi Arabia, Priority
Non-resident Ambassador of the Kingdom of Saudi Arabia H.E. Hani bin Abdullah bin Mohammed Mominah commenced the meeting by conveying the greetings of the members of parliament of Saudi Arabia and congratulated Ramadan. He said that parliamentary relations are essential for the continued development of the diplomatic relationship between the two countries and that he hoped the members of the National Assembly's PFG with Saudi Arabia would visit the Kingdom of Saudi Arabia soon.
---
Dr Muamer Zukorlic, Head of the PFG with Saudi Arabia, said that fostering deeper diplomatic ties with Saudi Arabia is very important for Serbia, both its citizens and the Muslim community. It took some years to establish diplomatic relations, but now intensifying cooperation across the board is a priority. Zukorlic informed the Ambassador about his work, saying that he has been a mufti for 23 years and dedicated his life to Muslim and Arab culture so his motives to become the Head of the PFG with Saudi Arabia were manifold. He said that Serbia wants the development of the diplomatic relations to be dynamic, speedy and successful, abounding in contacts, communication, openness and brotherly feeling. The Muslim community in Serbia, boasting over 100,000 people, enjoys full minority rights and pursues the policy of reconciliation when it comes to past conflict because that is the only way to maintain peace and stability in the region and Europe. "Dialogue is the only civilizational path to a solution and the advancement of all aspects of cooperation", said Zukorlic.
The Ambassador agreed that the cooperation between the two countries should be deepened. Many Saudis visit the region for study, tourism and economic cooperation. The bilateral relations, dating back to 2013, opened room for dialogue with the Ministry of Foreign Affairs and Ministry of Defence and could benefit from cooperation with the Assembly which could lead to signing economic, defence and healthcare cooperation agreements.
The officials also spoke about cooperating in the fight against Islamism, educating the public to understand the difference between Islam and terrorism and filling in the holes that allow this to be abused. They spoke about educational cooperation since 50 Serbian students are currently studying in the Kingdom of Saudi Arabia and Dr Zukorlic Meets is also the Chairman of the Committee on Education, Science, Technological Development and the Information Society.


---
---
monday, 16 december
10.00 - Ninth Sitting of the Second Regular Session of the National Assembly of the Republic of Serbia in 2019 (National Assembly House, 13 Nikola Pasic Square)

11.00 - the MPs meet with the students of the 63rd class of the General Staff Course of the University of Defence National Defence School (National Assembly Building, 14 Kralja Milana Street, Grand Hall)

12.00 - press conference of MP Zoran Zivkovic (National Assembly House, 13 Nikola Pasic Square, Central Hall)

12.30 - sitting of the Committee on the Judiciary, Public Administration and Local Self-Government (National Assembly House, 13 Nikola Pasic Square, hall 3)

12.30 - press conference of MP Prof. Dr Miladin Sevarlic (National Assembly House, 13 Nikola Pasic Square, Central Hall)

13.00 - press conference of MP Bosko Obradovic (National Assembly House, 13 Nikola Pasic Square, Central Hall)

13.30 - press conference of MP Djordje Vukadinovic (National Assembly House, 13 Nikola Pasic Square, Central Hall)

14.00 - press conference of MP Aleksandar Markovic (National Assembly House, 13 Nikola Pasic Square, Central Hall)

14.30 - the Head of the PFG with Algeria meets with Algerian Ambassador to Serbia (National Assembly House, 13 Nikola Pasic Square, hall 2)