National Assembly of the Republic of Serbia / Activities / Activity details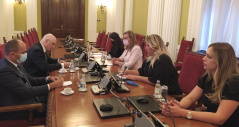 6 September 2021 The Head of the PFG with Georgia in meeting with the non-resident Georgian Ambassador
Monday, 6 September 2021
Head of PFG with Georgia Meets with Non-Resident Georgian Ambassador
The Head of the Parliamentary Friendship Group with Georgia Dubravka Filipovski met today at the National Assembly House with the newly-appointed non-resident Georgian Ambassador to Serbia David Dondua to discuss the prospects for the further improvement of interparliamentary cooperation.
---
PFG Head Dubravka Filipovski pointed out the growing interest in cooperation with Georgia among MPs, saying that the cooperation agreement signed during the previous legislature, at the level of the speakers of the two parliaments, as well as the activities of the parliamentary friendship groups contributed to this.
The abolition of visas for the citizens of Georgia has opened up new opportunities to further improve the relations between our two countries, said Filipovski. She thanked Ambassador Dondua for Georgia respecting Serbia's territorial integrity and supporting the dialogue between Serbs and Albanians in Kosovo-Metohija.
Georgian Ambassador David Dondua said that Georgia would continue to support Serbia's stance and positions at the international level, also thanking Serbia for respecting Georgia's territorial integrity.
In the course of the meeting the officials agreed that Serbia and Georgia share similar historical experiences and continue to face similar challenges, adding that the countries' cooperation is of mutual benefit.
Ambassador Dondua stressed that Serbia's experience in the European integration process is very important for Georgia since in the process, Serbia is in the lead.
---
---
monday, 25 october
9.00 - sitting of the Committee on the Economy, Regional Development, Trade, Tourism and Energy (National Assembly House, 13 Nikola Pasic Square, hall 2)

9.00 - sitting of the Agriculture, Forestry and Water Management Committee (National Assembly House, 13 Nikola Pasic Square, hall 4)

10.00 - sitting of the Committee on Finance, State Budget and Control of Public Spending (National Assembly House, 13 Nikola Pasic Square, Small Hall)

13.00 - sitting of the Committee on Constitutional and Legislative Issues (National Assembly House, 13 Nikola Pasic Square, hall 1)