National Assembly of the Republic of Serbia / Activities / Activity details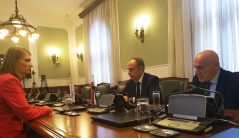 4 December 2019 The Head of the PFG with Cyprus in meeting with the Cypriot Ambassador to Serbia
Wednesday, 4 December 2019
Head of PFG with Cyprus Receives Cypriot Ambassador to Serbia
The Head of the Parliamentary Friendship Group with Cyprus Biljana Pantic Pilja met today with the Cypriot Ambassador to Serbia H.E. Constantinos Eliades to discuss the current situation in Cyprus.
---
The Ambassador explained the situation concerning the incursion of Turkish platforms on Cyprus' exclusive economic area - four drilling for natural gas and two doing seismic research. The Ambassador said that the platforms are accompanied by a considerable number of military vessels which cause additional concern among the populace. Eliades said that the incursions happened on four occasions in the past six months which violates international law and EU regulations. In the course of the meeting the Ambassador took the opportunity to reaffirm Cyprus' non-recognition of the so-called state of Kosovo and thanked Serbia on behalf of his country for its support at the international level.
Biljana Pantic Pilja thanked the Ambassador for the detailed report on the developments in Cyprus. She restated that the Republic of Serbia respects the territorial integrity and sovereignty of the Republic of Cyprus and denounces the Turkish incursion on Cyprus' exclusive economic zone. Though not an EU member, Serbia will continue to support Cyprus' efforts to promote international law, she said, adding that Serbia sees Cyprus as a true friend. She also said that she will convey the message to the members of the PFG and do what she can to arrange a meeting between the Ambassador and the members of the PFG with Cyprus.
The officials agreed that small countries like Serbia and Cyprus should support one another to make sure their sovereignty remains intact and international law is respected.


---
---
| M | T | W | T | F | S | S |
| --- | --- | --- | --- | --- | --- | --- |
| 27 | 28 | 29 | 30 | 31 | 1 | 2 |
| 3 | 4 | 5 | 6 | 7 | 8 | 9 |
| 10 | 11 | 12 | 13 | 14 | 15 | 16 |
| 17 | 18 | 19 | 20 | 21 | 22 | 23 |
| 24 | 25 | 26 | 27 | 28 | 29 | 30 |
| 31 | 1 | 2 | 3 | 4 | 5 | 6 |
friday, 7 august
No announcements for selected date