National Assembly of the Republic of Serbia / Activities / Activity details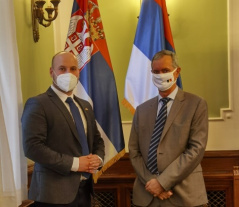 7 April 2021 The Head of the Parliamentary Friendship Group with the Kingdom of Belgium and the Ambassador of the Kingdom of Belgium in Belgrade
Wednesday, 7 April 2021
Head of PFG with Belgium Meets with Belgian Ambassador to Serbia
Marko Parezanovic, Head of the Parliamentary Friendship Group with the Kingdom of Belgium, met today at the National Assembly House with the Ambassador of the Kingdom of Belgium, H.E. Koenraad Adam to discuss the fight against the coronavirus pandemic, intensification of parliamentary as well as economic cooperation.
---
Having informed the Ambassador that the PFG with Belgium consists of 36 MPs, Marko Parezanovic expressed hope that, when the conditions allow, the existing cooperation between the parliamentarians would continue through an exchange of visits and experiences between the two countries.
Parezanovic pointed out that the Republic of Serbia has acted responsibly in the fight against the pandemic by successfully launching a vaccination process and offering its citizens a choice of four types of vaccine. He added that Serbia has also offered support to the region by allowing the people from the neighbouring countries to be vaccinated in it. He went on to say that Serbia is one of the few countries that has enabled the vaccination of foreign diplomats. Two COVID hospitals have been built in a very short time to provide care for COVID-19 patients and assistance to the healthcare system.
He also pointed out that the Republic of Serbia has had the smallest drop in GDP in Europe in 2020, when the entire world was affected by the coronavirus pandemic. In addition to the fight against the pandemic, Serbia considers the fight against organised crime one of its primary goals.
The Head of the PFG with Belgium suggested organising a video meeting between the members of the two parliaments' friendship groups in the following period, with the participation of the ambassadors of both countries.
He also invited Ambassador Koenraad Adam to come and visit Cacak and the Institution for Day Care of Children, Youth and Adults with Developmental and Physical Disabilities, which the Ambassador was glad to accept.
The Ambassador of the Kingdom of Belgium, H.E. Koenraad Adam praised the leadership of Serbia for the successful ongoing vaccination process, as well as yesterday's vaccination of President Aleksandar Vucic. The solidarity in immunisation that Serbia has shown in the region is an example of good practice for other countries, the Ambassador opined.
He agreed with Marko Parezanovic that there is ample room to improve parliamentary cooperation, as well as cooperation in the field of economy. The Ambassador said that it is important for the parliamentarians, as representatives of the two nations, to get to know each other. That is how the economic sector and companies can learn that Serbia is an attractive and interesting country for investments.
The meeting also touched on the application of the Code of Conduct for MPs, the inter-party dialogue concerning the upcoming elections in Serbia and Serbia's European path.
Ambassador Koenraad Adam stressed that Belgium is ready to provide support to Serbia on its road to membership in the European Union.
---
---