National Assembly of the Republic of Serbia / Activities / Activity details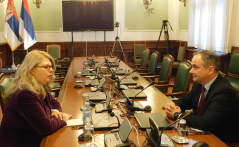 4 March 2019 Head of the of the National Assembly delegation to PACE Dr Aleksandra Tomic in meeting with Croatian Ambassador to Serbia H.E. Gordan Bakota
Monday, 4 March 2019
Head of National Assembly Delegation to PACE Meets with Croatian Ambassador to Serbia
The Head of the National Assembly delegation to the Parliamentary Assembly of the Council of Europe (PACE) Dr Aleksandra Tomic met today, at the National Assembly, with Croatian Ambassador to Serbia H.E. Gordan Bakota to discuss advancing regional cooperation as well as cooperation within international parliamentary institutions.
---
Tomic and Bakota agreed that the future of the region lies in cooperation and that protecting the rights of national minorities, as the cornerstone of European values, is very significant for both countries. It is important to ensure full protection of minority rights and the participation of national minorities in policy creation and decision-making in the Serbian and Croatian society, they agreed.
They also spoke about reciprocal support and protection of Serbian and Croatian interests in international parliamentary institutions, especially the Parliamentary Assembly of the Council of Europe where Dr Aleksandra Tomic heads the National Assembly's delegation.


---
---
friday, 21 february
9.00 - sitting of the Culture and Information Committee (National Assembly House, 13 Nikola Pasic Square, hall 4)

9.30 - sitting of the Committee on Spatial Planning, Transport, Infrastructure and Telecommunications (National Assembly House, 13 Nikola Pasic Square, hall 2)

9.45 - sitting of the Committee on Constitutional and Legislative Issues (National Assembly House, 13 Nikola Pasic Square, hall 2)

10.00 - continuation of the 25th Extraordinary Session of the National Assembly of the Republic of Serbia, 11th Legislature (National Assembly House, 13 Nikola Pasic Square)

11.30 - press conference of MP Olena Papuga (National Assembly House, 13 Nikola Pasic Square, Central Hall)

12.00 - sitting of the Committee on the Diaspora and Serbs in the Region (National Assembly House, 13 Nikola Pasic Square, hall 3)

13.30 - press conference of MP Bosko Obradovic (National Assembly House, 13 Nikola Pasic Square, Central Hall)

14.00 - press conference of MP Djordje Vukadinovic (National Assembly House, 13 Nikola Pasic Square, Central Hall)

16.50 - National Assembly Deputy Speaker Veroljub Arsic meets with the Chairman of the Accounts Chamber of the Russian Federation Alexei Kudrin (National Assembly House, 13 Nikola Pasic Square, hall 1)