National Assembly of the Republic of Serbia / Activities / Activity details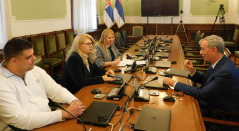 5 April 2019 Head of the of the National Assembly delegation to PACE Dr Aleksandra Tomic and delegation member Aleksandar Seselj in meeting with Belgian Ambassador to Serbia Koen Adam
Friday, 5 April 2019
Head of National Assembly Delegation to PACE Meets with Belgian Ambassador to Serbia
The Head of the National Assembly delegation to the Parliamentary Assembly of the Council of Europe (PACE) Dr Aleksandra Tomic and delegation member Aleksandar Seselj met today, at the National Assembly, with the Ambassador of the Kingdom of Belgium to Serbia Koen Adam to discuss the importance of interparliamentary cooperation and how to improve it.
---
The officials agreed that parliamentary diplomacy is very important for both countries, both at the bilateral level and within international parliamentary institutions, with a special focus on the cooperation and mutual support within PACE, the National Assembly delegation to which is headed by Dr Aleksandra Tomic.
Dr Tomic thanked the Kingdom of Belgium for its unwavering support of Serbia's European integration, from the very beginning of the talks with the European Union in 2014.


---
---