National Assembly of the Republic of Serbia / Activities / Activity details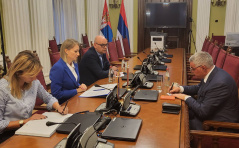 27 September 2022 The Head of the National Assembly delegation to PACE Biljana Pantic Pilja in meeting with the non-resident Ambassador of the Republic of Armenia to the Republic of Serbia H.E. Ashot Hovakimyan
Tuesday, 27 September 2022
Head of National Assembly Delegation to PACE Biljana Pantic Pilja Meets with Armenian Ambassador
The Head of the National Assembly delegation to PACE Biljana Pantic Pilja met today at the National Assembly House with the non-resident Ambassador of the Republic of Armenia to the Republic of Serbia H.E. Ashot Hovakimyan to discuss the traditionally good and friendly relations between the two countries.
---
Biljana Pantic Pilja pointed out that in addition to the good relations, there is room to improve overall bilateral cooperation, recalling the existing Memorandum of Understanding between the two parliaments.
She went on to say she expected that the National Assembly's 13th legislature would soon set up a Parliamentary Friendship Group with Armenia because, she said, meetings of PFG members can greatly contribute to parliamentary cooperation.
Armenian Ambassador Ashot Hovakimyan agreed that interparliamentary cooperation is good and that there is room for its further improvement. He informed the Head of the National Assembly delegation to PACE about the current difficult situation the people of Armenia facing in connection with the conflict with Azerbaijan. The Ambassador asked for Serbia's support in international organisations, especially in the Parliamentary Assembly of the Council of Europe.
Biljana Pantic Pilja informed the Ambassador about the situation in the southern Serbian province, which is very difficult at the moment, stressing that Armenia's strong and principled support regarding Kosovo-Metohija is very important to the Republic of Serbia.
She also added that all of Serbia's positions comply with our principled commitment to respect the territorial integrity and sovereignty of every country, as well as to respect the norms of international law. She emphasised that Serbia, led by President Aleksandar Vucic, is making enormous efforts to preserve peace and stability in the region, while simultaneously protecting its state and national interests.
At the end of the meeting, the officials agreed that mutual support in international organisations is of great benefit to both countries.
---
---
saturday, 9 december
No announcements for selected date