National Assembly of the Republic of Serbia / Activities / Activity details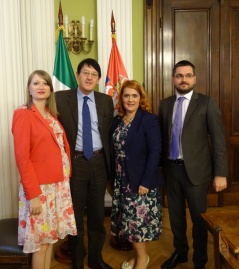 31 July 2015 The members of the European Integration Committee in meeting with the Head of Italian parliamentary delegation to CEI, Senator Lodovico Sonego
Friday, 31 July 2015
Head of Italian Parliamentary Delegation to CEI Visits National Assembly
The Chairman and members of the European Integration Committee met today with the Head of the Italian parliamentary delegation to the Central European Initiative (CEI), Senator Lodovico Sonego.
---
European Integration Committee Chairman Aleksandar Senic briefed Senator Sonego on the National Assembly's international and interparliamentary cooperation in the previous period, with a special focus on the visits EU officials paid to Serbia and their encouraging statements on the opening of the first negotiation chapters. He thanked the Italian Senate for passing the resolution inviting the European Union member states to open the negotiation chapters during Italy's presidency and added that Serbia believes this would happen during Luxembourg's presidency of the Union. Senic also informed the Italian Senator about the European Integration Committee's activities, reaffirming that Serbia is politically and technically fully ready for the talks with the European Union, which would send a clear message that it wants Serbia in its midst by opening the negotiation chapters.

The Head of the Italian parliamentary delegation to the Central European Initiative (CEI), Senator Lodovico Sonego restated that Italy has, is and will continue to stand by Serbia on its path to the European Union and assured his hosts that it would endorse the opening of negotiation chapters with Serbia. He urged the Serbian colleagues to take a joint stand at the next general session of the CEI assembly in Skopje, asking the Serbian delegation to the international organisation for support of the declaration advising the European Union to continue with the enlargement policy, to see the Western Balkans as part of Europe and separate EU membership from NATO membership i.e. to allow the Western Balkan countries the choice to be or not be, as members of the EU, members of NATO as well. Sonego also asked for support for the realisation of the pre-accession programme for infrastructure and transportation projects for the Western Balkan countries.

The officials also spoke about Serbia's progress as regards the rule of law and national minority rights, the initiative to set up a parliamentary friendship group with Serbia at the Italian Senate, reactivation of the agreement on reciprocal recognition of university degrees, and the legislative framework allowing Italian companies to invest in Serbia.

Besides the European Integration Committee Chairman, the meeting was also attended by Committee members Biljana Pantic Pilja and Dusica Stojkovic.


---
---
thursday, 23 january
9.30 - sitting of the Committee on Constitutional and Legislative Issues (National Assembly House, 13 Nikola Pasic Square, hall 2)

10.00 - continuation of the 19th Extraordinary Session of the National Assembly of the Republic of Serbia, 11th Legislature (National Assembly House, 13 Nikola Pasic Square)

11.00 - sitting of the Committee on Finance, State Budget and Control of Public Spending (National Assembly House, 13 Nikola Pasic Square, hall 2)

14.00 - press conference of MP Bosko Obradovic (National Assembly House, 13 Nikola Pasic Square, Central Hall)

14.00 - sitting of the Foreign Affairs Committee (National Assembly House, 13 Nikola Pasic Square, hall 2)

14.15 - press conference of MP Miroslav Aleksic (National Assembly House, 13 Nikola Pasic Square, Central Hall)

15.00 - press conference of MP Nedjo Jovanovic (National Assembly House, 13 Nikola Pasic Square, Central Hall)

15.50 - press conference of MP Aleksandar Markovic (National Assembly House, 13 Nikola Pasic Square, Central Hall)