National Assembly of the Republic of Serbia / Activities / Activity details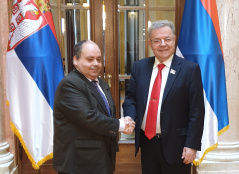 7 November 2018 The Head of the PFG with Tunisia Dragomir Karic and Tunisian Ambassador to Serbia H.E. Seyf Allah Rejeb
Wednesday, 7 November 2018
Head and Members of PFG with Tunisia Meet with Tunisian Ambassador to Serbia
The members of the PFG with Tunisia, headed by Dragomir Karic, met today with the Tunisian Ambassador to Serbia H.E. Seyf Allah Rejeb at his initiative.
---
The central topic of the meeting was the centenary of World War One and commemoration of fallen Serbian soldiers to be held in Tunisia on 9 January when the Serbian soldiers first stepped onto Tunisian soil. The Tunisian Embassy will be organizing the commemoration with the help of the Alliance of associations of descendants of Serbian soldiers in the form of an exhibition narrated by historians form both countries, as well as a roundtable. His Excellency suggested that this day should also be commemorated in Serbia and asked for the Parliamentary Friendship Group's help.
Rejeb also spoke about attending school in Bender Burigba which was the hospital for Serbia soldiers in World War One. The Head of the PFG with Tunisia Dragomir Karic suggested placing a memorial plaque on the school, which he would personally take care of if the school allows it.
The Tunisian Ambassador took the opportunity to inform the PFG with Tunisia about the Economic Forum to be held on 28-29 November 2018 in Tunisia and attended by state secretaries in the Intergovernmental Mixed Commission, and asked the PFG to help attract Serbian businessmen to Tunisia.
Dragomir Karic said the PFG would be very glad to help with the commemoration and accept any and all suggestions which would deepen the friendship between the two countries. He and the PFG members went on to thank Tunisia for its support of Serbia's territorial integrity and sovereignty and the Ambassador assured them that Tunisia would not change its stance on the issue.
Karic also spoke about the two countries' ample cooperation, adding that there is still room for improvement for example by signing a consular convention, agreement between Radio Tunisia and Radio Belgrade, police cooperation, mutual recognition of driving licences and other practical agreements.
PFG members Jelena Vujicic Obradovic, Dr Dragana Barisic, Zvonimir Djokic, Milan Knezevic, Vera Jovanovic and Milija Miletic also took part in the meeting with the Tunisian Ambassador.


---
---
tuesday, 23 april
8.30 - sitting of the Committee on Labour, Social Issues, Social Inclusion and Poverty Reduction (National Assembly House, 13 Nikola Pasic Square, hall 4)

9.00 - sitting of the Committee on Constitutional and Legislative Issues (National Assembly House, 13 Nikola Pasic Square, hall 2)

9.00 - sitting of the Defence and Internal Affairs Committee (National Assembly House, 13 Nikola Pasic Square, hall 3)

9.00 - sitting of the Committee on Finance, State Budget and Control of Public Spending (National Assembly House, 13 Nikola Pasic Square, hall 4)

9.30 - sitting of the Committee on the Economy, Regional Development, Trade, Tourism and Energy (National Assembly House, 13 Nikola Pasic Square, hall 4)

9.30 - sitting of the Committee on the Judiciary, Public Administration and Local Self-Government (National Assembly House, 13 Nikola Pasic Square, hall 3)

10.00 - continuation of the Fourth Sitting of the First Regular Session of the National Assembly of the Republic of Serbia in 2019 (National Assembly House, 13 Nikola Pasic Square)

10.00 - sitting of the Committee on Spatial Planning, Transport, Infrastructure and Telecommunications (National Assembly House, 13 Nikola Pasic Square, hall 2)

11.00 - press conference of MPs Jovan Jovanovic and Sonja Pavlovic (National Assembly House, 13 Nikola Pasic Square, Central Hall)

12.00 - sitting of the Committee on Spatial Planning, Transport, Infrastructure and Telecommunications (National Assembly House, 13 Nikola Pasic Square, hall 2)