National Assembly of the Republic of Serbia / Activities / Activity details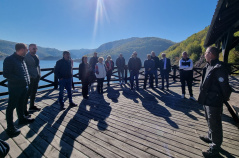 1 October 2021 The Green Parliamentary Group visits Zlatibor District
Wednesday, 6 October 2021
Green Parliamentary Group in Thematic Visit to Zlatibor District
The informal Green Parliamentary Group visited Zlatibor District on 1 and 2 October 2021, touring the municipalities of Prijepolje, Priboj, Nova Varos and Sjenica.
---
The objective of the visit was to tour important waste treatment sites - the closed landfill of Stanjevina, Banjica landfill, as well as the treatment of floating waste on Potpec Lake and the Lim river basin. In addition, the participants also had the opportunity to learn more about the new nature protection regime in the Uvac Special Nature Reserve.

On the first day of the visit, the Green Parliamentary Group met with representatives of the municipality of Prijepolje who presented the activities and film about the reclamation of the Stanjevina landfill which had been polluting Lim for years. The second stop was the municipality of Priboj. Arriving on the territory of the municipality, the Green Parliamentary Group visited the Banjica transfer station. They also had a meeting with representatives of the municipality of Priboj to discuss waste management and the protection of the Lim river basin. They also discussed other issues related to environmental protection and waste management. The Ministry's activity and special projects aimed at solving the accumulated problems are noticeable Ii both municipalities.

The second day was dedicated to Uvac Special Nature Reserve. The MPs had the opportunity to learn from the reserve guards everything about the business side and work in the nature reserve itself. After visiting the lakes, caves and meanders of Uvac, the Green Parliamentary Group had a working lunch with representatives of the municipalities of Sjenica and Nova Varos, where they discussed sustainable tourism and the development of municipalities which should not endanger the special reserve.

The thematic visit was attended by: Dubravka Filipovski, Jasmina Karanac, Bratislav Vasiljevic, Branimir Jovanovic, Vesna Ivkovic, Milija Miletic, Zarko Bogatinovic, Nevenka Kostadinova, Muamer Bacevac, Tomislav Jankovic, Tijana Davidovac, Samira Cosovic, Danijela Veljovic, Bosiljka Srdic, Prof. Dr Ljubisa Stojmirovic, Sanja Jeftic, Nenad Baros, Milan Urosevic, Bojan Torbica and Marko Parezanovic.

The visit was organised with the support of the OSCE Mission to Serbia, which supports the work of the Green Parliamentary Group.



---
---
sunday, 1 october
No announcements for selected date