National Assembly of the Republic of Serbia / Activities / Activity details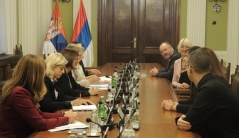 11 September 2015 The Speaker of the National Assembly of the Republic of Serbia Maja Gojkovic and the representatives of association Egal and the Gay Lesbian Info Centre
Friday, 11 September 2015
Gojkovic with Representatives of Association Egal and Gay Lesbian Info Centre
National Assembly Speaker Maja Gojkovic met today at the Serbia Assembly with the representatives of association Egal and the Gay Lesbian Info Centre, organisers of Trans Pride.
---
The members of the association informed the National Assembly Speaker about the problems of transgender people, especially the non-recognition of gender identity by the law which, they said hinders transgender people's adequate access to healthcare, employment and education.
They also discussed how to amend the law to allow better legal security to transgender people and protection from discrimination, which would be the first step toward solving their problems, and the opening of a drop in centre for support of transgender people.
Gojkovic stressed that the National Assembly is dedicated to the protection of the human rights of all the citizens of Serbia, eradication of discrimination and violence and building a more tolerant society.
---
---
thursday, 20 january
13.00 - the National Assembly Speaker meets with the Ambassador Extraordinary and Plenipotentiary of the Bolivarian Republic of Venezuela (National Assembly House, 13 Nikola Pasic Square, diplomatic salon of Prince Pavle)