National Assembly of the Republic of Serbia / Activities / Activity details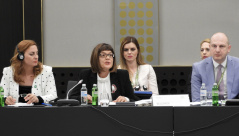 14 April 2018 Speaker Gojkovic and SEECP PA fifth session
Saturday, 14 April 2018
Gojkovic at SEECP PA Session
The Speaker of the National Assembly of the Republic of Serbia and Head of the National Assembly's standing delegation to the South East Europe Cooperation Process Parliamentary Assembly (SEECP PA) Maja Gojkovic who is taking part in the SEECP PA Plenary Session in Ljubljana, said it was very important for the region to recognize the options for and possible projects to help improve cooperation which can only contribute to a better future for the region.
---
Gojkovic stressed that regional organizations are a vital political, economic and cultural tie and it is the parliamentarians' duty to discuss all issues of importance for the citizens even if they do not see eye-to-eye.

"We need to do this so we can understand one another, recognize our common interests and try to find the best solutions to the outstanding issues", said Gojkovic.

At the plenary debate "SEECP PA prospects in light of the new geopolitical relations in Europe", Gojkovic spoke about the global challenges of terrorism, extremism, fundamentalism, separatism, refugees and migration, climate change, energy security saying that they are leaving a deep mark on our region due to its geographical position and the interdependence of global processes.

Gojkovic said that Serbia's commitment to develop cooperation across the board with its friends and partners is evidenced in its EU accession efforts and policy of military neutrality.

The Assembly Speaker said that Serbia is fully committed to EU accession and the accompanying reform processes, stressing that the continuation of EU enlargement is very important for both the countries trying to join the EU and the EU itself.

Gojkovic stressed that Serbia has made some difficult decisions in its dialogue with Pristina, but Pristina is yet to meet the obligation of establishing the Community of Serb Municipalities five years since the signing of the Brussels Agreement. The National Assembly Speaker also reminded the attending of the grave incidents as the arrest of the negotiator in the dialogue with Pristina Marko Djuric.

Gojkovic stressed that despite the challenges and provocations Serbia continues to tread calmly and soberly, abide by international law and adhere to the principle of dialogue, striving to maintain peace and stability which is a pre-requisite of regional development.

The parliamentarians will vote on the final declaration which highlights the SEECP and its Parliamentary Assembly's fundamental role is strengthening the stability and prosperity of the SEE region, as well as its dedication to European integration.

On the eve of the plenary session the Serbian Assembly Speaker met with Milan Brglez, Speaker of the Slovenian Parliament which presides over the SEECP Parliamentary Assembly, to discuss how to advance the two countries' relations and cooperation in the region.

The National Assembly's delegation also comprises MP Darko Laketic, and the session is also attended by the representatives of the Parliamentary Assembly of the Black Sea Economic Cooperation and Parliamentary Assembly of the Mediterranean Igor Becic and Momo Colakovic, as well as representatives of the European Parliament and the Baltic Assembly.


---
---
Thursday, 20 September
11.00 - sitting of the Committee on Education, Science, Technological Development and the Information Society (National Assembly House, 13 Nikola Pasic Square, hall 2)

11.00 - sitting of the Environmental Protection Committee (National Assembly House, 13 Nikola Pasic Square, hall 3)

12.00 - sitting of the Culture and Information Committee (National Assembly House, 13 Nikola Pasic Square, hall 4)

12.00 - sitting of the Committee on Labour, Social Issues, Social Inclusion and Poverty Reduction (National Assembly House, 13 Nikola Pasic Square, hall 3)

15.00 - sitting of the Committee on the Economy, Regional Development, Trade, Tourism and Energy (National Assembly House, 13 Nikola Pasic Square, hall 2)

16.15 - sitting of the Committee on Finance, State Budget and Control of Public Spending (National Assembly House, 13 Nikola Pasic Square, hall 2)