National Assembly of the Republic of Serbia / Activities / Activity details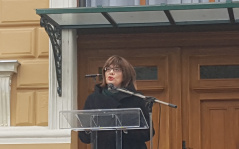 25 November 2018 National Assembly Speaker Maja Gojkovic at the opening of the Museum of Unification in Novi Sad
Sunday, 25 November 2018
Gojkovic at Opening of Museum of Unification
At the opening of the Museum of Unification today, the Speaker of the National Assembly of the Republic of Serbia Maja Gojkovic said that the centenary of unification of Srem, Banat, Backa and Baranja with the Kingdom of Serbia reminds us of our ancestors' the great victory we should be proud of and the historic decision of unification they made a century ago.
---
Gojkovic said that, as we now stand with our head held high in the Museum of Unification, a place of enormous national significance, we entrust the future generations with the duty to remember the fight that brought it about.
Gojkovic said that the Grand National Assembly in Novi Sad and the Grand National Gathering in Ruma were led by the ideals of freedom, equality, progress and development for all the people living in these territories.
Gojkovic went on to add that by remembering and celebrating our ancestors we celebrate the much coveted freedom they brought us 100 years ago, crowned by the unbelievable victory and liberation of the motherland enslaved in WWI, which made the historic decision of the Grand National Assembly possible.
Gojkovic stressed that the Grand National Assembly was also a big democratic step forward in its day as it was multinational and granted universal voting rights making it possible for seven women to vote on the historic decision.
"For the first time in Europe, when English, French and German women could only dream of the right to vote. That was a time when very few countries in the world allowed women to vote or the option to be elected and participate in assembly procedures", said Gojkovic.
The Assembly Speaker said that freedom and equality are the leading principles in AP Vojvodina and all of Serbia today.
"Freedom and equality of all the citizens, regardless of their national or religious affiliation, are the core values we prize to this date. These differences we cherish are our common good", said Gojkovic.
She said that in today's complex geopolitical circumstances and unstable surroundings, we have no bigger interest that to maintain our unity, preserve our hard-won freedom, peace and stability and secure economic and overall growth for our citizens.


---
---
friday, 24 may
9.00 - National Assembly Deputy Speaker Prof. Dr Vladimir Marinkovic and Head of PFG with Germany Vesna Markovic meet with representatives of Hans-Bockler Foundation (National Assembly House, 13 Nikola Pasic Square, hall 2)

9.00 - sitting of the Committee on the Judiciary, Public Administration and Local Self-Government (National Assembly House, 13 Nikola Pasic Square, hall 4)

9.30 - sitting of the Committee on Constitutional and Legislative Issues (National Assembly House, 13 Nikola Pasic Square, hall 4)