National Assembly of the Republic of Serbia / Activities / Activity details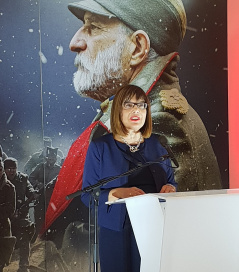 3 December 2018 The National Assembly Speaker at the opening of exhibition "1914-1918"
Monday, 3 December 2018
Gojkovic at Opening of Exhibition "1914-1918"
Opening painter Nemanja Okiljevic's exhibition "1914-1918", the Speaker of the National Assembly of the Republic of Serbia Maja Gojkovic said that the young artist's work captures, better than words, the suffering and dignity of man and the whole nation in WWI.
---
Opening the exhibition in the Kombank Hall, Gojkovic said that an event of such historical importance, one filled with suffering and sacrifice, as well as wisdom, demands artistic expression such as this exhibition – on the boundary of the real and unreal, human and demonic.
"That is why here tonight, where history gives way to art we can best see the enormity of the evil that spread over Serbia in 1914. From the day Nikola Pasic read the telegram in Nis the one with which they wanted to put an end to Serbia, the power of the enemy, evil and hatred led to the eradication of a whole nation. But with superhuman strength which the artist recognized, this small nation stood fast and showed, with equally great suffering and victories, the belief in the purity and justice of its cause", said Gojkovic.
Gojkovic said that the exceptional clash of good and evil, light and darkness, criminal and victim is vivid in the art displayed here, which is what was actually laid bare, unequivocally exposed in Serbia in 1914.
"At the same time, the powerful hope of living in freedom gave these unsung heroes the strength to overcome all the hardships. Here we can see the rebellion of the man who wants to, in his fervent wish to reach freedom, confront all demons, evil and death,", said the Parliament Speaker.
Gojkovic said that it is our duty to convey the experience of this dramatic historical event from generation to generation because we do not have the right to forget.
"It is important that each new generation incorporates its own expression to keep the great suffering forever it the nation's historical memory. The role of art is vital, especially in these by no means easy times wrought with challenges, when it is crucial to understand the essence of the events from a century ago", said Gojkovic.
Gojkovic said that she believes this exhibition, the work of one young man, would help young people learn more about this important part of Serbian history because that way they can best understand the importance of the freedom our ancestors fought for and won.
Gojkovic opened the exhibition on the eve of the premiere of the film "King Peter I".


---
---
friday, 24 may
9.00 - National Assembly Deputy Speaker Prof. Dr Vladimir Marinkovic and Head of PFG with Germany Vesna Markovic meet with representatives of Hans-Bockler Foundation (National Assembly House, 13 Nikola Pasic Square, hall 2)

9.00 - sitting of the Committee on the Judiciary, Public Administration and Local Self-Government (National Assembly House, 13 Nikola Pasic Square, hall 4)

9.30 - sitting of the Committee on Constitutional and Legislative Issues (National Assembly House, 13 Nikola Pasic Square, hall 4)