National Assembly of the Republic of Serbia / Activities / Activity details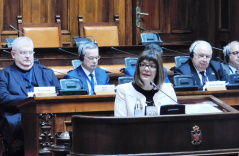 11 May 2018 The National Assembly Speaker at the opening of the international parliamentary conference "Idea of EU: Toward Peace and Development"
Friday, 11 May 2018
Gojkovic at Opening of "Idea of EU: Toward Peace and Development"
The Speaker of the National Assembly of the Republic of Serbia Maja Gojkovic spoke at the opening of the international parliamentary conference "Idea of EU: Toward Peace and Development" at the National Assembly House, and on the occasion stressed that Serbia's commitment to Euro-integration and adherence to the accession principles and criteria is based on the belief that all the efforts and sometimes difficult and painful measures are in the best interest of the Serbian citizens, peace, stability and prosperity of the region.
---
"That is why the prospects should be credible and concrete, with visible goals set by a stable and strong EU starting from the principles and values this huge project is based on", said Gojkovic.
The National Assembly Speaker said that, historically, the European Union developed by overcoming crises and finding new trends to follow, while the enlargement process ran parallel to it, so a strong or an enlarged European Union is not really a matter of choice because a bulk of the EU's power lies in its enlargement.
Gojkovic reminded the attending that the ideas Robert Schuman published almost seven decades ago in the declaration that is the cornerstone of today's modern Europe, created as a hope, a salvation and the best response to the war-torn and impoverished Europe, are still relevant today.
The Parliament Speaker said that the European Union might now be facing its biggest challenges to date – terrorism, illegal migration, the still relevant fallout of the economic crisis, unresolved conflicts in Europe and the Middle East, Brexit and the 2021-2027 budget which has already, in its planning stage, drawn different reactions.
"Our region is not exempt from any of these challenges. That is why it is very important that the relations and cooperation in the region be built on mutual respect, trust and understanding for the sake of stability and a lasting peace in it", said Gojkovic.
Gojkovic said Serbia is making measured and responsible moves to defuse tensions and draw attention to an agenda for the future – joint infrastructural and other projects, cooperation between young people, stimulating investment in the region, encouraging the free flow of people and increasing the volume of trade of both goods and services. Economic development will help strengthen the region as a whole, its stability and with it our ability to face up to any challenge.


---
---
Thursday, 24 January
11.00 - sitting of the Committee on Administrative, Budgetary, Mandate and Immunity Issues (National Assembly House, 13 Nikola Pasic Square, hall 2)