National Assembly of the Republic of Serbia / Activities / Activity details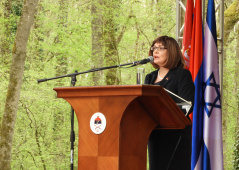 15 April 2018 The National Assembly Speaker at the commemoration at Donja Gradina memorial grounds
Sunday, 15 April 2018
Gojkovic at Donja Gradina
The Speaker of the National Assembly of the Republic of Serbia Maja Gojkovic attended the commemoration of the sufferings in Jasenovac and Donja Gradina death camps at the Donja Gradina memorial grounds.
---
On the occasion Gojkovic said that in memory of the victims of Jasenovac and for the sake of our future generations we have to speak out about the horrors in one of the most terrible WW2 concentration camps so that the crimes committed there never happen again.

Gojkovic said that in Donja Gradina, as well as in other camps in the Independent State of Croatia – Jastrebarsko, Stara Gradiska, Sisak, Loborgrad, Jadovno and many a death ground know or unknown, people suffered systematic, premeditated and organized extermination and stressed that even now, more than seven decades later, we can only wonder how it is possible to hate another human being with such passion just because they happen to be Serbs, Roma of Jews.

The National Assembly Speaker that the full horror of these crimes is not evidenced just in their many innocent victims killed in the most dreadful ways, but in the fact that it was a state project whose final goal was to eradicate whole nations - Serbs, Jews and Roma.

Gojkovic said that it was our duty to speak out against any attempts at revision and rehabilitation of the monstrous ideology of hate and racism which was in the very foundations of NDH stating that any attempt to revive fascism and Ustasha ideas threatens human rights and dignity.

"We have to fight this pure evil which hates joy and life with all our power. We cannot let it torture our descendants like it tortured our ancestors. There should be no place for it in the work and future we are building and hoping for", said the National Assembly Speaker

That is why, she added, by keeping the memory of and seeking justice for the victims, with the sincerest desire to build a better region and world, our response to violence and extremism should be an ever stronger adherence to peace and cooperation, even greater dedication to development and progress and the overall development of our state and people.

Gojkovic stressed that we have to say it loud: "We will not allow these horrific crimes to be negated, justified or forgotten. We will not allow it because of the victims, the future of the generations to come and the peace and stability we want to build with those of our neighbours who sincerely want to".


---
---
Thursday, 20 September
11.00 - sitting of the Committee on Education, Science, Technological Development and the Information Society (National Assembly House, 13 Nikola Pasic Square, hall 2)

11.00 - sitting of the Environmental Protection Committee (National Assembly House, 13 Nikola Pasic Square, hall 3)

12.00 - sitting of the Culture and Information Committee (National Assembly House, 13 Nikola Pasic Square, hall 4)

12.00 - sitting of the Committee on Labour, Social Issues, Social Inclusion and Poverty Reduction (National Assembly House, 13 Nikola Pasic Square, hall 3)

15.00 - sitting of the Committee on the Economy, Regional Development, Trade, Tourism and Energy (National Assembly House, 13 Nikola Pasic Square, hall 2)

16.15 - sitting of the Committee on Finance, State Budget and Control of Public Spending (National Assembly House, 13 Nikola Pasic Square, hall 2)