National Assembly of the Republic of Serbia / Activities / Activity details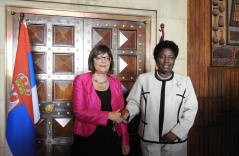 22 February 2019 National Assembly Speaker Maja Gojkovic and Ugandan Parliament Speaker Rebecca Kadaga
Friday, 22 February 2019
Gojkovic and Ugandan Parliament Speaker
The Speaker of the National Assembly of the Republic of Serbia Maja Gojkovic met today with Ugandan Parliament Speaker Rebecca Kadaga, at whose invitation she is paying an official visit to Uganda, the first in the history of relations between the two countries.
---
Gojkovic and Kadaga said that the friendly relations between Serbia and Uganda date back to the times of Uganda's independence and common activities in the Non-Aligned Movement, and that this historic friendship and support oblige the countries to develop and advance cooperation across the board -economy, tourism, education and culture.
Gojkovic and Kadaga signed a Memorandum of Understanding between the two parliaments, praising it as an indicator of the two parliaments' resolve to institutionalize their cooperation and intensify contacts between their committees, friendship groups, as well as delegations in international parliamentary organizations.
Gojkovic said that the signing of the Memorandum of Understanding and establishment of parliamentary friendship groups open a new chapter in the two countries' relations, which is one extremely important thing that parliaments do.
"This is just a continuation of a very good friendship that has been going on for 56 years", said Gojkovic.
Gojkovic thanked Uganda for not recognizing the unilaterally declared independence of Kosovo-Metohija and respecting Serbia's territorial integrity and sovereignty and international law.

Gojkovic went on to brief Kadaga on the situation in Kosovo-Metohija, stressing that Pristina has failed to fulfil its obligation under the Brussels Agreement – establish a Community of Serb Municipalities, and also imposed a 100% customs tax on goods from central Serbia and Bosnia and Herzegovina and established the so-called Kosovo Army, which can destabilize the entire region.
Ugandan Parliament Speaker Rebecca Kadaga said that Uganda respects its friend and will continue to cooperate with Serbia.
Kadaga said that this is just the first of many future visits and the beginning of a firm partnership between the Ugandan and Serbian parliaments, saying that the Ugandan Parliament has set up a friendship group with Serbia with a view to strengthen cooperation. Cooperation in the fields of science and technology is adding very important for Uganda as the country is eager to learn more from other countries.
Kadaga said that the two nations know very little about one another and it would be good to help them get better acquainted, stressing that Serbian citizens are welcome to Uganda. Gojkovic opined that it is important to inform the younger generations about the historical ties and their development in the modern world through cultural cooperation and tourism.
Gojkovic and Kadaga urged for the development of trade and economic ties pointing out that there is ample potential to develop cooperation in the fields of agriculture, military medicine, tourism, etc.
Kadaga accepted the Serbian Assembly Speaker's invitation to visit Serbia and Gojkovic also invited Ugandan to send a delegation to this year's IPU Assembly to be held in Belgrade in October.
The National Assembly delegation also comprises Foreign Affairs Committee Chairman Zarko Obradovic and the Head of the Parliamentary Friendship Group with Uganda Dragomir Karic.


---
---