National Assembly of the Republic of Serbia / Activities / Activity details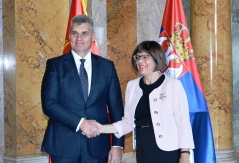 12 October 2017 The National Assembly Speaker and the President of the Montenegrin Parliament
Thursday, 12 October 2017
Gojkovic and Montenegrin President of Parliament
The Speaker of the National Assembly of the Republic of Serbia Maja Gojkovic met today with the President of the Montenegrin Parliament Ivan Brajovic, currently in official visit to the Republic of Serbia.
---
Gojkovic stressed that Serbia is fully devoted to the development of relations with Montenegro, which can only be aided by today's visit and the ongoing dialogue, while the Montenegrin President of Parliament opined that the relations at the level of the two countries' leadership have been greatly improved compared to the last decade.
Gojkovic and Brajovic emphasized the role of the parliament in the further development of relations and discussed how to best further interparliamentary cooperation, for example via friendship groups, the women's parliamentary network, working bodies, especially those dealing with foreign affairs, euro-integration, economy and culture, as well as through the two parliaments' delegations at international parliamentary organizations.
The two heads of parliament agreed that cooperation in the field of Euro-integration should be a special point of interest since both countries are committed to EU accession and support one another in that endeavour by cooperating and exchanging experiences.
Gojkovic said that Serbia is dedicated to the development of regional cooperation and stability which is a prerequisite for the Western Balkans' progressand development, highlighting the importance of the Berlin Process in that context and applauding the idea to have a meeting of parliamentary speakers before the next summit in London.
The two heads of parliament also urged for an improvement of economic cooperation in the fields of infrastructure, transportation, tourism and trade.
The President of the Montenegrin Parliament invited the Speaker of the National Assembly of the Republic of Serbia Maja to pay a return visit to Montenegro to continue the dialogue and help further the cooperation.


---
---
Thursday, 20 September
11.00 - sitting of the Committee on Education, Science, Technological Development and the Information Society (National Assembly House, 13 Nikola Pasic Square, hall 2)

11.00 - sitting of the Environmental Protection Committee (National Assembly House, 13 Nikola Pasic Square, hall 3)

12.00 - sitting of the Culture and Information Committee (National Assembly House, 13 Nikola Pasic Square, hall 4)

12.00 - sitting of the Committee on Labour, Social Issues, Social Inclusion and Poverty Reduction (National Assembly House, 13 Nikola Pasic Square, hall 3)

15.00 - sitting of the Committee on the Economy, Regional Development, Trade, Tourism and Energy (National Assembly House, 13 Nikola Pasic Square, hall 2)

16.15 - sitting of the Committee on Finance, State Budget and Control of Public Spending (National Assembly House, 13 Nikola Pasic Square, hall 2)