National Assembly of the Republic of Serbia / Activities / Activity details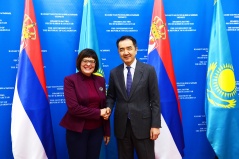 7 November 2017 National Assembly Speaker Maja Gojkovic and Kazakh Prime Minister Bakytzhan Sagintayev
Tuesday, 7 November 2017
Gojkovic and Kazakh Prime Minister
In the course of her official visit to the Republic of Kazakhstan, the Speaker of the National Assembly of the Republic of Serbia Maja Gojkovic met with Prime Minister Bakytzhan Sagintayev.
---
The officials stressed that the two countries' bilateral relations are good and friendly, with no outstanding issues.
Gojkovic and Sagintayev agreed that the intensive political dialogue, led by presidents Aleksandar Vucic and Nursultan Nazarbayev, opens up new prospects for cooperation between Serbia and Kazakhstan in a number of areas and that parliamentary cooperation plays a key role in it.
Gojkovic said that Serbia is committed to EU accession as well as development of cooperation with traditionally friendly countries such as Kazakhstan. The Serbian Assembly Speaker said that Serbia's principled international policy affirms the sovereignty and independence of its international position.

Gojkovic thanked Kazakhstan for its continued and principled support and respect of Serbia' territorial integrity and sovereignty i.e. the fact that it did not recognize the unilaterally declared independence of Kosovo-Metohija. The Assembly Speaker emphasized the importance of a continued deliberation on the Kosovo-Metohija issue in the UN Security Council.
Gojkovic informed the Kazakh Prime Minister that she had discussed the improvement of interparliamentary cooperation with the heads of the Senate and Mazhilis to make sure that this segment of relations does not lag behind the two countries' overall cooperation, and added that hers is the first visit by a parliament speaker to Kazakhstan. Gojkovic stressed that the Serbian Assembly is ready to contribute to the development of overall bilateral cooperation by ratifying the agreements the two governments sign.
The Serbian Parliament Speaker said that the development of economic cooperation and trade under the Free Trade Agreement should be a matter of special attention since the ample capacities for it remain underutilized especially in the fields of agriculture, pharmacy, construction, transport, technology development and tourism.
Prime Minister Sagintayev said that the platform for the development of economic relations has been set up and there is room to enhance it, reminding the Speaker of the important role of the Intergovernmental Commission for trade and economic cooperation.
Sagintayev opined that the governments now have the important and comprehensive task of setting priorities for concrete projects.


---
---
Thursday, 13 December
9.00 - the National Assembly Speaker opens ECONOMIST conference (National Assembly House, 13 Nikola Pasic Square, Small Hall)