National Assembly of the Republic of Serbia / Activities / Activity details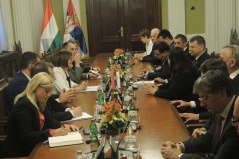 16 April 2015 The Speaker of the National Assembly of the Republic of Serbia, Maja Gojkovic and Hungarian National Assembly Speaker László Kövér
Thursday, 16 April 2015
Gojkovic and Kövér: Relations Between Serbia and Hungary at a Historic High
The Speaker of the National Assembly of the Republic of Serbia, Maja Gojkovic met today with Hungarian Parliament Speaker László Kövér, in official visit to the Republic of Serbia. The two parliament speakers stressed that the relations between Serbia and Hungary are excellent and the two countries are dedicated to developing them further.
---
Gojkovic said that the relations between the two countries are at a historic high, that there are no open issues and Serbia and Hungary are ready to improve them further.
Hungarian Parliament Speaker László Kövér agreed that the two countries' relations have long not been this good, that in fact "they may never have been this good".
Kövér said that the two countries can be proud of what they have achieved as regards reconciliation and improvement of cooperation, in which the presidents of Serbia and Hungary, as well as the prime ministers and parliaments, played an important role, adding that the ties between the two peoples should be strengthened further.
The Hungarian Parliament Speaker said that the EU accession of the Western Balkan countries, a process in which Serbia plays a key role, is a strategic interest for Hungary.
Gojkovic thanked Hungary for the constant and genuine assistance in the accession process since EU membership is Serbia's chief foreign policy priority and added that the process needs to be transparent. Gojkovic also stated that Serbia expects the first negotiations chapters to be opened this year.
Gojkovic and Kövér urged for the further development of cooperation between the two parliaments, especially between the friendship groups and working bodies, in the spheres of Euro-integration, economy and agriculture.
The Hungarian parliamentary delegation also comprised the Head of the Hungary-Serbia Parliamentary Friendship Group Károly Pánczél and Spokesperson of the Serbian national minority Ljubomir Aleksov.
Click
here
to watch the press conference of National Assembly Speaker Gojkovic and Parliament Speaker Kövér.
---
---
| M | T | W | T | F | S | S |
| --- | --- | --- | --- | --- | --- | --- |
| 27 | 28 | 29 | 30 | 31 | 1 | 2 |
| 3 | 4 | 5 | 6 | 7 | 8 | 9 |
| 10 | 11 | 12 | 13 | 14 | 15 | 16 |
| 17 | 18 | 19 | 20 | 21 | 22 | 23 |
| 24 | 25 | 26 | 27 | 28 | 29 | 30 |
| 31 | 1 | 2 | 3 | 4 | 5 | 6 |
thursday, 6 august
No announcements for selected date