National Assembly of the Republic of Serbia / Activities / Activity details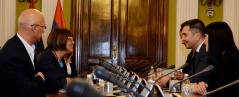 8 September 2017 National Assembly Speaker Maja Gojkovic and Minister of Labour, Employment, Veteran and Social Affairs Zoran Djordjevic
Friday, 8 September 2017
Gojkovic and Djordjevic: Gender Equality Law Must Be Implementable
The Speaker of the National Assembly of the Republic of Serbia Maja Gojkovic had a meeting today at the National Assembly with the Minister of Labour, Employment, Veteran and Social Affairs Zoran Djordjevic to analyse the gender equality draft law which has recently been subject of much heated public speculation.
---
The Minister who had come to the meeting at the National Assembly Speaker's invitation, informed the Parliament Speaker about the drafting process stressing that the gender equality bill the Serbian Government would be sending to the National Assembly would be modern and implementable.
Gojkovic and Djordjevic agreed that the chief problem of the existing draft law is the impracticality of some of its tenets which had been brought to the Minister's attention by the Union of Employers of Serbia, trade unions and representatives of the civil sector.
The National Assembly Speaker and Minister Djordjevic concluded that it is important that the Ministry keep the National Assembly informed about all the stages of the drafting process and that the Serbian Government would be submitted bill into regular parliamentary procedure and the MPs and the public will have plenty of time to review its provisions and work together to make it better by submitting amendments as/if needed.
Gojkovic and Djordjevic agreed that the law, extremely important to secure gender equality in Serbia, requires comprehensive social consensus and needs to be applicable in practice and be more than so many words on paper.
---
---
Sunday, 19 August
No announcements for selected date