National Assembly of the Republic of Serbia / Activities / Activity details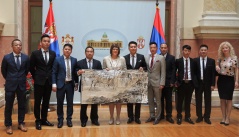 1 June 2017 The National Assembly Speaker and the delegation of the Chinese Business Association
Thursday, 1 June 2017
Gojkovic and Chinese Business Association
The Speaker of the National Assembly of the Republic of Serbia Maja Gojkovic met today with a delegation of the Association of Chinese businessmen in AP Vojvodina, and on the occasion opined that the friendly relations between Serbia and China had been continuing to develop on all fronts, especially the economic.
---
Gojkovic underlined the importance of economic cooperation grounded in traditional friendship mentioning the contract with Hesteel about the ownership of Smederevo Steel Works as a positive example, as well as many energy, rail and road infrastructure projects.

Reminding the guests that the National Assembly had passed a series of laws to create a better investment environment, Gojkovic said that the Parliament had ratified the Bill on the Confirmation of the Agreement between the Government of the Republic of Serbia and the Government of the People's Republic of China on Mutual Abolition of Visas for Holders of Ordinary Passports, which would contribute to the development of economic cooperation, especially once there is a direct flight.

Gojkovic was also pleased by the intensification of political dialogue at the highest level, stressing that the Parliament's role had been instrumental in it and that a visit by the Chairman of the Chinese Parliament Zhang Dejiang would prove most useful.

The representatives of the Chinese Business Association commended the development of relations between Serbia and China, stressing that it is their intention to continue to further economic cooperation and support other types of cooperation in the spheres of culture and education.

The Association representatives also pointed out their noteworthy cooperation with the authorities of AP Vojvodina and many local self-governments, saying that they are currently negotiating a number of significant projects.


---
---