National Assembly of the Republic of Serbia / Activities / Activity details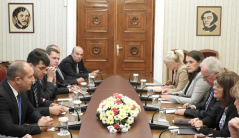 11 September 2018 The National Assembly Speaker in meeting with the Bulgarian President
Tuesday, 11 September 2018
Gojkovic and Bulgarian President
In the course of her official state visit to Bulgaria, the Speaker of the National Assembly of the Republic of Serbia Maja Gojkovic met with Bulgarian President Rumen Radev.
---
Speaking to President Radev, Gojkovic stressed that the relations between Serbia and Bulgaria are good and following an upward trend, and the intensive political dialogue at all the levels of government demonstrates Serbia and Bulgaria's mutual desire to develop cooperation across the board.
Radev said that the meeting with Serbian President Aleksandar Vucic infused the relations between the two states with new spirit and Serbia and Bulgaria embarked on a historic journey of reconciliation and understanding. Radev said that the relations between the two countries, political, economic and cooperation relating to national minority issues, are an excellent example of how the relations in the region should develop.
The Bulgarian President said that the last two years saw 17 meetings at different levels of government, between the two presidents, governments and parliaments, the results of which are evident in the increased trade reaching up to a billion USD.
Radev said that Bulgaria's Presidency of the EU Council gave Serbia a clear European perspective, pointing out that the path to the EU requires effort of both the state and society as a whole and adding that Bulgaria is well aware of these efforts and is ready to help.
The National Assembly Speaker thanked Bulgaria for its support of Serbia's Euro-integration pointing of the need to speed up the dynamics of the negotiations process and saying she expected Bulgaria to continue to work on making the region an important part of the EU Council's agenda in the coming period.
Radev thanked the Serbian Assembly Speaker for President Vucic's efforts as regards the position of the Bulgarian national minority in Serbia.
Gojkovic said that Serbia is doing all in its power to ensure that the minorities receive education in their native language and position fully in line with European standards, and the last two years, since her last visit to Bulgaria, saw significant progress and the adoption of good laws which all helped improve the position of national minorities.
Gojkovic and Radev also spoke about regional cooperation, especially developing cooperation under the auspices of the Danube Strategy, and how the presidents and parliaments in the region could contribute to strengthening ties. Radev said that the people want to see real results of integration in everyday life and the Danube Strategy offers a real mechanism how to bring the people of the Danube region closer together.
Gojkovic said that next year marks 140 years of diplomatic relations between the two countries which would be an excellent opportunity to present the results of the efforts to advance relations to the people, as it is the best way to build trust between the representatives of the state and the citizens.


---
---