National Assembly of the Republic of Serbia / Activities / Activity details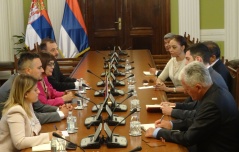 19 July 2017 The National Assembly Speaker in meeting with the Brazilian Senator
Wednesday, 19 July 2017
Gojkovic and Brazilian Senator
In today's meeting between the Speaker of the National Assembly of the Republic of Serbia Maja Gojkovic and Helio Jose da Silva Lima, member of the Federal Senate of the National Congress of Brazil, the officials stressed that the bilateral relations between Serbia and Brazil are good and friendly and the two countries enjoy mutual understanding and support in all matters of interest.
---
Gojkovic and Senator Lima agreed to promote cooperation between the two parliaments as well as interparliamentary relations, saying that an exchange of visits and meetings between the two heads of parliament could prove beneficial to that end, especially since next year marks the 80th anniversary of diplomatic relations between the two countries.

The officials opined that intensifying cooperation between Serbia and Brazil's parliamentary friendship groups in the coming period would be very beneficial and also spoke about cooperation in international parliamentary organizations and exchanging experiences related to political reform and gender equality.

The National Assembly Speaker thanked Brazil for not recognizing the unilaterally declared independence of Kosovo-Metohija and respecting Serbia's sovereignty and territorial integrity, as proved in Kosovo-Metohija's thwarted attempt to join UNESCO and other international organizations and bodies.

The officials also noted that there is considerable potential to develop economic cooperation and boost investments especially in the fields of energy and infrastructure, as well as advance touristic and cultural cooperation.


---
---