National Assembly of the Republic of Serbia / Activities / Activity details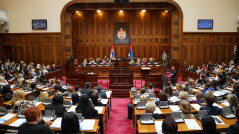 14 December 2019 Seventh National Conference of the Women's Parliamentary Network
Saturday, 14 December 2019
Gojkovic Opens Women's Parliamentary Network Seventh National Conference
The Speaker of the National Assembly of the Republic of Serbia Maja Gojkovic opened the Seventh National Conference of the Women's Parliamentary Network "Not In My Parliament" at the National Assembly House saying that it is the duty of women MPs and councilwomen from around Serbia to raise awareness on the key problems women have to contend with and open a debate on hate speech against women.
---
Gojkovic said that Serbia and the National Assembly are determined to improve the status of women and have made considerable progress in the area primarily by passing good legislation, but now it is vital to focus on its consistent implementation to reduce violence and economically empower women, ensure their representation and visibility.
Speaking of the representation of women, Gojkovic said that the Assembly boasts 94 women MPs, many in leading positions at the national level, however at the regional and local level women are still not represented well-enough to be able to affect policy creation in the communities they live in.
"In view of all the challenges obstructing the path to gender equality, it is important to be aware that we represent the women in Serbia. Their voice speaks through us, councilwomen, women MPs and mayors, and their wish to continue to work on building a society where we will be fully equal", Gojkovic said.
The Head of the OSCE Mission to Serbia Andrea Orizio said that this conference is a shining example of to successfully overcome political divisions, stressing that dialogue is an excellent means of political improvement. The OSCE Mission will continue to support the Women's Parliamentary Network as a successful indicator of the way in which the Serbian society should move.
Sacha Miller of the Swiss Cooperation Office stressed that despite the notable progress in terms of gender equality in Serbia, women are still exposed to discrimination in a variety of forms. Sexism is still quite noticeable, as is upholding traditional norms of social behaviour.
Program analyst Zeljka Topalovic of UNDP said that improving gender equality is a necessity, explaining that the process should parallel the achievement of UN's Sustainable Development Goals. Gender equality is not exclusively a parliamentarian issue, it is a problem for the common citizen, media and state as well.


---
---
friday, 24 january
9.30 - sitting of the European Integration Committee (National Assembly House, 13 Nikola Pasic Square, hall 3)

10.00 - continuation of the 19th Extraordinary Session of the National Assembly of the Republic of Serbia, 11th Legislature (National Assembly House, 13 Nikola Pasic Square)

10.30 - sitting of the Committee on Spatial Planning, Transport, Infrastructure and Telecommunications (National Assembly House, 13 Nikola Pasic Square, hall 2)

11.00 - press conference of MP Milija Miletic (National Assembly House, 13 Nikola Pasic Square, Central Hall)