National Assembly of the Republic of Serbia / Activities / Activity details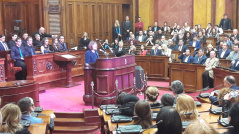 23 December 2017 The National Assembly Speaker opens of the solemn academy marking the end of this year's "Spirit of Youth" Caravan
Saturday, 23 December 2017
Gojkovic Opens Solemn Academy Marking End of This Year's "Spirit of Youth" Caravan
The Speaker of the National Assembly of the Republic of Serbia Maja Gojkovic opened the solemn academy marking the end of this year's "Spirit of Youth" Caravan at the National Assembly House, stressing that the Caravan which visited 34 towns and municipalities had achieved significant results on the promotion of dual and entrepreneurial education.
---
Gojkovic stressed that both the National Assembly and the Serbian Government are deeply committed to educational reform and digitalization through the adoption of laws and other measures, pointing out that without it Serbia would not be able to develop and keep pace with the modern world.
Gojkovic said that for the reforms to take ground, we need to encourage entrepreneurship and creativity and be read to learn throughout our lives.
The National Assembly Speaker said that the project "Spirit of Youth", co-conducted by the Ministry of Education, Science and Technological Development and the "Spirit of Youth" youth organization, had embarked on the challenging path to set the groundwork for an education suited to the needs of the economy and labour market in order to create better employment opportunities for young people.
Gojkovic reminded the attending that the Law on Dual Education, recently passed by the National Assembly at the proposal of the Serbian Government, contains a key new point – it makes it possible for students to gain skills in line with the modern technological development and applicable in practice by learning on the job, in a real working environment.
The National Assembly Speaker said that the objective was not to create a cheap labour force, but an educated one, adding that any serious and successful company plans for the long-term and thinks how to improve production through technological modernization as well as educate its human resources, the biggest asset they have. That should be the motive for even more companies to enter into the dual education system in the future.
Minister of Education, Science and Technological Development Mladen Sarcevic, President of the Serbian Chamber of Commerce Marko Cadez and the Head of the Division for Comparative Education Systems at the Swiss Economic Institute Ursula Renold also spoke at the academy.
---
---
Thursday, 18 October
10.00 - continuation of the Second Sitting of the Second Regular Session of the National Assembly of the Republic of Serbia in 2018 (National Assembly House, 13 Nikola Pasic Square)

10.45 - the National Assembly Speaker meets the President of Austria (National Assembly House, 13 Nikola Pasic Square, hall 1)

11.00 - sitting of the Committee on Spatial Planning, Transport, Infrastructure and Telecommunications (National Assembly House, 13 Nikola Pasic Square, hall 2)

11.15 - press conference of MP Djordje Milicevic (National Assembly House, 13 Nikola Pasic Square, Central Hall)

11.45 - press conference of the MP of SDPS PG (National Assembly House, 13 Nikola Pasic Square, Central Hall)

12.15 - press conference of MP Dr Vladimir Orlic (National Assembly House, 13 Nikola Pasic Square, Central Hall)

- exhibition "Art Waiting for Justice" (National Assembly House, 13 Nikola Pasic Square, Central Hall)