National Assembly of the Republic of Serbia / Activities / Activity details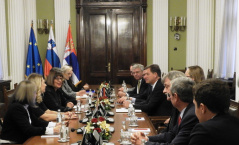 3 December 2019 National Assembly Speaker Maja Gojkovic in meeting with Slovenian Foreign Minister Miro Cerar
Tuesday, 3 December 2019
Gojkovic Meets with Slovenian Foreign Minister
The Speaker of the National Assembly of the Republic of Serbia Maja Gojkovic met today with the Minister of Foreign Affairs Slovenia Miro Cerar, currently in official visit to the Republic of Serbia, to discuss the advancement of bilateral cooperation and the Euro-integration process.
---
Gojkovic said that Serbia and Slovenia have reached the highest level of understanding and cooperation in the previous period and are enjoying excellent cooperation at all levels.
Gojkovic stressed that parliamentary cooperation is very well-developed and the relations between the two parliaments greatly contribute to the overall bilateral relations between Serbia and Slovenia, mentioning in that context the Memorandum of Cooperation between the two parliaments signed during her last visit to Slovenia, which encouraged the cooperation between the parliamentary committees and friendship groups. Gojkovic said that the fact that the parliament speakers met seven times within one year speaks volumes about the excellent interparliamentary relations. The Slovenian Foreign Minister agreed about the importance of parliamentary cooperation and praised the development of good parliamentary relations.
Gojkovic stressed that Serbia is grateful to Slovenia for its support of the enlargement policy which is important not only for our region but for the EU itself which the Western Balkans are striving to join, and Cerar said that Slovenia would continue to support Serbia's Euro-integration and offer development and technical aid.
Cerar said that the two countries are developing very good economic relations and the joint session of the two governments in December would be an excellent opportunity for further advancement, adding that the volume of trade between the two countries has reached 1.5 billion EUR.
Cerar congratulated the Assembly Speaker on the excellent organization of the 141st Assembly of the Inter-Parliamentary Union held in Belgrade in October, attended by 149 countries, and Gojkovic said she was most pleased that National Assembly Speaker Dejan Zidan himself headed the Slovenian delegation to the IPU Assembly.

---
---
friday, 18 september
No announcements for selected date