National Assembly of the Republic of Serbia / Activities / Activity details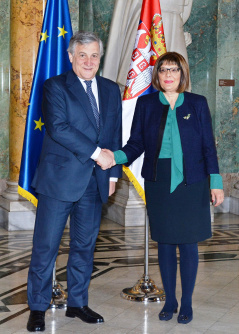 31 January 2018 National Assembly Speaker Maja Gojkovic with the President of the European Parliament Antonio Tajani
Wednesday, 31 January 2018
Gojkovic Meets with President of European Parliament
The Speaker of the National Assembly of the Republic of Serbia Maja Gojkovic met today with the President of the European Parliament Antonio Tajani, at the beginning of his official visit to Serbia.
---
Gojkovic thanked Tajani and the European Parliament for their support of Serbia's European integration, stressing that today's visit is significant both for Serbia and the region at large and their EU accession process, and for the EU itself seeing how the enlargement policy is one of the professed priorities of the Bulgarian Presidency.
Gojkovic stressed that full EU membership is Serbia's foreign policy goal and the country expects that the soon to be published EU enlargement strategy would recognize its efforts and commitment and give Serbia a timeframe for the EU accession. The National Assembly Speaker also hopes the European Commission's coming Report on Serbia would be positive and enable the country to take a step forward in its path to Euro-integration.
In the meeting with the President of the European Parliament, Gojkovic said that Belgrade is committed to the solutions agreed with in the dialogue with Pristina and expects the other side to adhere to the Brussels Agreement, stressing that, four years later, Pristina is yet to establish the agreed upon Community of Serb Municipalities.
The President of the European Parliament Antonio Tajani said that the message he brings from the European Union is that the EU recognizes and acknowledges Serbia's progress toward accession.
Tajani said that as a historically significant European country Serbia, its culture and tradition, are very important for the region, emphasizing the country's pivotal role in maintaining stability in the Balkans. The President of the European Parliament said that this could be the year when the integration process picks up speed, stressing that fostering good relations in the Balkans is also one of the goals of Bulgaria's six-month presidency.
Gojkovic and Tajani agreed that the development of economic relations between Serbia and the European Union is very important, something tonight's business conference in Belgrade could greatly aid. Tajani said that, from the aspect of economic cooperation, the EU is closely following the developments in Serbia as a country experiencing economic growth and he hopes that European companies can help reduce unemployment in the country and strengthen good ties with the EU.
The two heads of parliament also discussed topics of common interest such as terrorism and illegal migration and the potential for cooperation in these areas.
Gojkovic and Tajani spoke about the important role of the National Assembly in the Euro-integration process, the role of the European Integration Committee and the EU-Serbia Stabilisation and Association Parliamentary Committee, as well as about strengthening the National Assembly's capacities.
Click
here
to watch the press conference of the two heads of parliament.
---
---
friday, 21 february
9.00 - sitting of the Culture and Information Committee (National Assembly House, 13 Nikola Pasic Square, hall 4)

9.30 - sitting of the Committee on Spatial Planning, Transport, Infrastructure and Telecommunications (National Assembly House, 13 Nikola Pasic Square, hall 2)

9.45 - sitting of the Committee on Constitutional and Legislative Issues (National Assembly House, 13 Nikola Pasic Square, hall 2)

10.00 - continuation of the 25th Extraordinary Session of the National Assembly of the Republic of Serbia, 11th Legislature (National Assembly House, 13 Nikola Pasic Square)

11.30 - press conference of MP Olena Papuga (National Assembly House, 13 Nikola Pasic Square, Central Hall)

12.00 - sitting of the Committee on the Diaspora and Serbs in the Region (National Assembly House, 13 Nikola Pasic Square, hall 3)

13.30 - press conference of MP Bosko Obradovic (National Assembly House, 13 Nikola Pasic Square, Central Hall)

14.00 - press conference of MP Djordje Vukadinovic (National Assembly House, 13 Nikola Pasic Square, Central Hall)

16.50 - National Assembly Deputy Speaker Veroljub Arsic meets with the Chairman of the Accounts Chamber of the Russian Federation Alexei Kudrin (National Assembly House, 13 Nikola Pasic Square, hall 1)