National Assembly of the Republic of Serbia / Activities / Activity details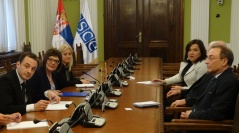 4 April 2016 Gojkovic Meets with OSCE/ODIHR Representatives
Monday, 4 April 2016
Gojkovic Meets with OSCE/ODIHR Representatives
The Speaker of the National Assembly of the Republic of Serbia Maja Gojkovic met today with representatives of the OSCE/ODIHR mission headed by Geert-Hinrich Ahrens.
---
Gojkovic and Ahrens discussed the process and activities related to the elections scheduled for 24 April 2016.

Ahrens outlined the OSCE/ODIHR observation mission's engagement plan within OSCE's regular election observation practice conducted in the member states.


---
---
friday, 29 september
9.00 - sitting of the Committee on the Rights of the Child (National Assembly Building, 14 Kralja Milana Street, Blue Salon)

9.00 - sitting of the Committee on Finance, State Budget and Control of Public Spending (National Assembly House, 13 Nikola Pasic Square, hall 2)