National Assembly of the Republic of Serbia / Activities / Activity details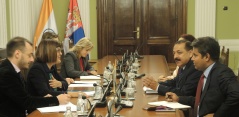 13 October 2016 The National Assembly Speaker in meeting with the with Minister of State in the Indian Prime Minister's Office
Thursday, 13 October 2016
Gojkovic Meets with Minister of State in Indian Prime Minister's Office
The Speaker of the National Assembly of the Republic of Serbia Maja Gojkovic met today with Minister of State in the Indian Prime Minister's Office Jitendra Singh. Gojkovic and Singh agreed that the two countries' traditionally friendly relations provide an excellent foundation for the further development of dialogue and cooperation.
---
The officials stressed that there is mutual interest for the development of economic relations and that the new potentials for cooperation in the field of agriculture, information technologies and health care should be utilized.

Gojkovic thanked India for not recognising the unilaterally declared independence of Kosovo-Metohija, a stance reaffirmed on Kosovo-Metohija's bid to enter UNESCO, and Singh said that India, well aware how significant it is for a country to maintain its territorial integrity and sovereignty, will stand by Serbia.

Gojkovic and Singh said it is very important to maintain the highest level of dialogue between the two countries' dignitaries, adding that they were sure that in early 2017 the National Assembly Speaker would visit India at the invitation of the Speaker of the House of the People and the Chairman of the Council of States of the Indian Parliament, Sumitra Mahajan and Mohammad Hamid Ansari.


---
---