National Assembly of the Republic of Serbia / Activities / Activity details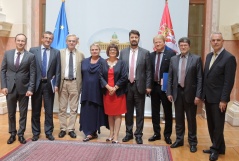 23 September 2015 The National Assembly Speaker in meeting with the members of the European Parliament's Committee on Foreign Affairs and Subcommittee on Human Rights
Wednesday, 23 September 2015
Gojkovic Meets with European Parliamentarians
National Assembly Speaker Maja Gojkovic, met today with the members of the European Parliament's Committee on Foreign Affairs and Subcommittee on Human Rights, currently visiting Serbia.
---
Gojkovic said that the MEPs' visit is significant in this stage of the Euro-integration process when Serbia is waiting the opening of the first negotiation chapters and emphasised the National Assembly's full support of the process.

Gojkovic presented the activities the National Assembly is engaged in on the path to full EU membership, stressing that Serbia is fully committed to the reform process and reaching the criteria for EU membership which is in its citizens' interest.

Gojkovic said that Serbia will work hard to be ready to join the EU by 2018, but the final decision about it rests on the Union.

On the behalf of the European parliamentarians, Cristian Dan Preda, member of the EP Committee on Foreign Affairs, said that all the political groups at the European Parliament support Serbia's European integration.

Responding to the MEPs requests, the National Assembly Speaker presented Serbia's stance on the migrant crisis and the steps it takes to alleviate it, adding that Serbia expected the EU's joint response to it and would, as before, fully contribute to it.

The officials also discussed the legislative process in terms of harmonisation with the EU acquis, and the coming activities concerning the cooperation between the National Assembly and the European Parliament.


---
---
friday, 28 january
13.00 - meeting of the Inter-Party Dialogue Control Body (National Assembly House, 13 Nikola Pasic Square, hall 1)

17.00 - National Assembly Speaker Ivica Dacic meets with Inter-Party Dialogue co-facilitators (National Assembly House, 13 Nikola Pasic Square, hall 1)