National Assembly of the Republic of Serbia / Activities / Activity details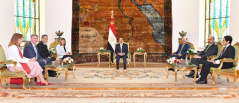 24 June 2019 The National Assembly Speaker in meeting with the President of the Arab Republic of Egypt
Monday, 24 June 2019
Gojkovic Meets with Egyptian President el-Sisi
In the course of her official visit to Egypt, the Speaker of the National Assembly of the Republic of Serbia Maja Gojkovic met with the President of the Arab Republic of Egypt Abdel Fattah el-Sisi.
---
Gojkovic and President el-Sisi spoke about all the aspects of advancing bilateral cooperation between Serbia and Egypt, stressing that the two countries have a traditionally good and friendly relationship.
President el-Sisi informed the National Assembly Speaker about the political and economic stability and development of modern Egypt and presented the projects for Egypt's future development.
Gojkovic informed President el-Sisi about the political and economic situation in Serbia and thanked Egypt for the understanding of Serbia's stance on the Belgrade-Pristina dialogue and the country's resolve to find a lasting, sustainable, compromise solution for the sake of Serbia's as well as the whole region's stability.
Gojkovic thanked President el-Sisi for Egypt not voting against Serbia's interests in international forums.
Gojkovic and el-Sisi spoke about the economic aspects of cooperation, stressing the importance of the coming meeting of the Mixed Committee which will be an excellent opportunity to sign a series of agreements to advance the cooperation between Serbia and Egypt.
Gojkovic informed the Egyptian President about the excellent cooperation between the two parliaments and the signed Memorandum of Understanding which has elevated said cooperation to an even higher level.
President el-Sisi conveyed his greetings to Serbian President Aleksandar Vucic, whom he had the pleasure to talk to on the margins of multilateral gatherings, and said he accepted the invitation and expected to soon come in official visit to Serbia.


---
---
monday, 16 december
10.00 - Ninth Sitting of the Second Regular Session of the National Assembly of the Republic of Serbia in 2019 (National Assembly House, 13 Nikola Pasic Square)

11.00 - the MPs meet with the students of the 63rd class of the General Staff Course of the University of Defence National Defence School (National Assembly Building, 14 Kralja Milana Street, Grand Hall)

12.00 - press conference of MP Zoran Zivkovic (National Assembly House, 13 Nikola Pasic Square, Central Hall)

12.30 - sitting of the Committee on the Judiciary, Public Administration and Local Self-Government (National Assembly House, 13 Nikola Pasic Square, hall 3)

12.30 - press conference of MP Prof. Dr Miladin Sevarlic (National Assembly House, 13 Nikola Pasic Square, Central Hall)

13.00 - press conference of MP Bosko Obradovic (National Assembly House, 13 Nikola Pasic Square, Central Hall)

13.30 - press conference of MP Djordje Vukadinovic (National Assembly House, 13 Nikola Pasic Square, Central Hall)

14.00 - press conference of MP Aleksandar Markovic (National Assembly House, 13 Nikola Pasic Square, Central Hall)

14.30 - the Head of the PFG with Algeria meets with Algerian Ambassador to Serbia (National Assembly House, 13 Nikola Pasic Square, hall 2)