National Assembly of the Republic of Serbia / Activities / Activity details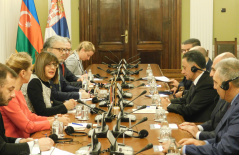 27 November 2018 The National Assembly Speaker in meeting with the Azerbaijani Minister of Internal Affairs
Tuesday, 27 November 2018
Gojkovic Meets with Azerbaijani Minister of Internal Affairs
The Speaker of the National Assembly of the Republic of Serbia Maja Gojkovic met today with Azerbaijani Minister of Internal Affairs Ramil Usubov, stressing that this visit is an incentive for the further development of relations and emphasizing the importance of cooperation in all areas of common interest.
---
Speaking of the two countries extensive political dialogue, Gojkovic mentioned the importance of Serbian President Aleksandar Vucic's visit to Azerbaijan, stressing that there are no outstanding issues between the two countries which share a strategic partnership and reciprocal support at the multilateral level.
Gojkovic thanked the Republic of Azerbaijan for its consistent support of Serbia's sovereignty and territorial integrity as well as international law, and principled vote against Kosovo-Metohija's attempt to join INTERPOL.
The Parliament Speaker briefed Usubov on the situation in Kosovo-Metohija, sharing her concern over Pristina's violation of free trade rules and CEFTA by the 100% tariff hike for goods from central Serbia and jeopardizing the rights and lives of citizens living on the territory.
Gojkovic highlighted the importance of strengthening good parliamentary relations and cooperation between committees and friendship groups, as well as on the multilateral level. Gojkovic also spoke about her visit to Azerbaijan and again invited the Azerbaijani Parliament Speaker to return the visit and come to Serbia to help promote the development of relations.
Usubov said that, like Serbia, Azerbaijan abides by international law and respects sovereignty and territorial integrity, therefore it supports Serbia's sovereignty and territorial integrity on all international platforms. Usubov went on to say that the two countries share the same interests and stances and it is essential to have coordination on all issues of importance.
Usubov said it is important that the two countries continue to cooperate in all areas, with a special focus on combating cross-border crime, terrorism and illegal migration.


---
---
friday, 24 may
9.00 - National Assembly Deputy Speaker Prof. Dr Vladimir Marinkovic and Head of PFG with Germany Vesna Markovic meet with representatives of Hans-Bockler Foundation (National Assembly House, 13 Nikola Pasic Square, hall 2)

9.00 - sitting of the Committee on the Judiciary, Public Administration and Local Self-Government (National Assembly House, 13 Nikola Pasic Square, hall 4)

9.30 - sitting of the Committee on Constitutional and Legislative Issues (National Assembly House, 13 Nikola Pasic Square, hall 4)