National Assembly of the Republic of Serbia / Activities / Activity details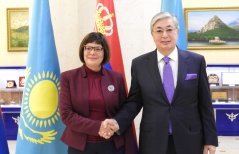 7 November 2017 The National Assembly Speaker and the Chair of the Kazakh Senate
Tuesday, 7 November 2017
Gojkovic Launches Visit to Kazakhstan by Meeting with Senate Chair
The Speaker of the National Assembly of the Republic of Serbia Maja Gojkovic launched her official visit to the Republic of Kazakhstan with a meeting with Senate Chair Kassym-Jomart Tokayev.
---
Gojkovic and Tokayev said that the Serbian Assembly Speaker's visit to Kazakhstan is very important as it is the first by a Parliament Speaker and the first interparliamentary visit in the history of relations of the two countries, and urged to continue developing interparliamentary cooperation in line with the friendly relations between Serbia and Kazakhstan.
Gojkovic said that the political dialogue between Serbia and Kazakhstan has been following an upward trend in the last few years and the MPs, as representatives of the citizens, have a special obligation to help the development of bilateral relations and expansion of economic cooperation and trade.
Gojkovic stressed that the parliaments should keep pace with the cooperation dynamics between the two countries' governments and presidents and to assist the development of interparliamentary cooperation, which both officials expressed interest in, she suggested signing a memorandum of cooperation as the next logical step.
Gojkovic said it would also be useful to develop cooperation at the level of working bodies, especially the committees in charge of foreign affairs, agriculture and economy, as well as between parliamentary friendship groups, mentioning that the PFG with Kazakhstan with its 77 members is one of the largest at the Serbian Parliament, which testifies of the MPs' strong commitment and wish, despite their different programmes and affiliations, to cooperate and improve relations with Kazakhstan.

The officials also mentioned that there is a will and need to deepen cooperation in other areas, especially the economy in view of the important reforms conducted in both countries, infrastructure and attraction of investment, and to participate in global projects such as the One Belt One Road initiative.
The Senate Chair said that the Serbia-Kazakhstan cooperation potentials are exceptionally high adding that it was important to work on expanding the volume of trade, and the National Assembly Speaker invited the Senate Chair to pay a return visit to Serbia which would be yet another opportunity to further the relations between the two countries.
Gojkovic also met with Gulmira Isimbayeva, Deputy Chairman of the Kazakh Mazhilis, who agreed that the two countries are determined to strengthen relations in a number of areas, pointing out that the cooperation potentials of agriculture, transport, trade and tourism are not fully realized.
The officials also highlighted the importance of educational and cultural cooperation and Isimbayeva said that the bust of Kazakh poet Jambyl Jabayev in Belgrade and the street bearing the name of Nikola Tesla in Astana are a symbol of friendship between Kazakhstan and Serbia.


---
---
Thursday, 13 December
9.00 - the National Assembly Speaker opens ECONOMIST conference (National Assembly House, 13 Nikola Pasic Square, Small Hall)