National Assembly of the Republic of Serbia / Activities / Activity details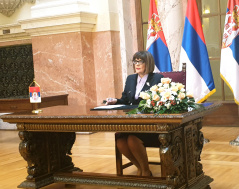 4 March 2020 Gojkovic calls local elections
Wednesday, 4 March 2020
Gojkovic Calls Local Elections
The Speaker of the National Assembly of the Republic of Serbia Maja Gojkovic signed the decision calling the elections for councillors of city and municipal assemblies in the Republic of Serbia, at the National Assembly House.
---
Gojkovic stressed that the decision on the elections does not include the city assemblies of Zajecar, Bor and Belgrade or the municipal assemblies of Kosjeric, Lucani, Arandjelovac, Negotin, Majdanpek, Mionica, Medvedja, Presevo, Kula, Doljevac, Kladovo and Smederevska Palanka which had extraordinary elections in the period between 2017 and 2019.
Gojkovic urged the citizens to use their civil right to participate in the regular elections on 26 April where they can cast their vote in the democratic electoral process and decide the future of the local self-governments and their further development.
"I would like to ask you to follow the candidates' programmes carefully and elect those whose responsible and serious policies will be able to improve your lives and the lives of your families in the cities and municipalities you live in", Gojkovic told the citizens.
The Serbian Assembly Speaker said that all the candidates in the coming elections should vie for public support with good programmes and offer their visions for the development of the local self-governments and refrain from hate speech.
"I once again urge all the participants in the elections to compete for votes with their work and responsibility in a fair campaign and respect the will of the people of the Republic of Serbia democratically expressed in the elections on 26 April", said Gojkovic.
The Parliament Speaker added that the timeline for the electoral activities will be set in motion on the day this decision comes into force and the elections for councillors of city and municipal assemblies will be conducted by the bodies for the conduction of elections as per the Law on Local Elections. The decision to call the local elections shall come into force on the day it is published in the Official Gazette of the Republic of Serbia.


---
---
tuesday, 7 february
8.30 - sitting of the Subcommittee on the Science and Higher Education (National Assembly House, 13 Nikola Pasic Square, hall 3)

10.00 - continuation of the First Extraordinary Session of the National Assembly of the Republic of Serbia, 13th Legislature (National Assembly House, 13 Nikola Pasic Square)

11.00 - MP Mirko Ostrogonac meets with representatives of the UK Embassy in Zagreb and representatives of the UK Embassy in Serbia (National Assembly House, 13 Nikola Pasic Square, hall 2)

11.00 - sitting of the Committee on Administrative, Budgetary, Mandate and Immunity Issues (National Assembly House, 13 Nikola Pasic Square, hall 4)

12.00 - sitting of the Committee on the Economy, Regional Development, Trade, Tourism and Energy (National Assembly House, 13 Nikola Pasic Square, hall 3)

12.00 - MP Miodrag Linta meets with representatives of the UK Embassy in Croatia and representatives of the UK Embassy in Serbia (National Assembly House, 13 Nikola Pasic Square, hall 4)

14.00 - the members of the PGH with Germany meets with the German Ambassador to Serbia (National Assembly House, 13 Nikola Pasic Square, hall 2)

15.00 - the Head of the PFG with the UK meets with representatives of the UK Embassy in Croatia and representatives of the UK Embassy in Serbia (National Assembly House, 13 Nikola Pasic Square, hall 4)