National Assembly of the Republic of Serbia / Activities / Activity details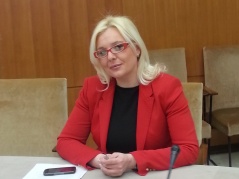 26 March 2013 National Assembly Secretary General Jana Ljubicic
Tuesday, 26 March 2013
German Interns to Attend Practice Programme at National Assembly
The Secretary General of the National Assembly of the Republic of Serbia, Jana Ljubicic, realised a series of bilateral meetings with the secretaries general of the parliaments participating in the 128th Inter-Parliamentary Union Assembly in Ecuador.
---
One of the topics of the Serbian delegation's meetings was the professionalisation of the assembly services and other parliaments' experiences.
Intensifying cooperation between the National Assembly of the Republic of Serbia and the German Bundestag was the most important conclusion of the meeting between the Bundestag representatives and Secretary General Jana Ljubicic. The National Assembly will provide scholarships for two German interns to take part its student practice programme, at the beginning of September. For the first time, German interns will have the opportunity to learn about the work and structure of the Serbian Parliament. This is a specific form of interparliamentary cooperation and a continuation of the intern exchange programme. In Ecuador, the Secretary General is taking part in the meetings of secretaries general from parliaments across the world.
The topics discussed and experiences exchanged will prove very beneficial for the improvement of the work and efficiency of the National Assembly.
---
---
| M | T | W | T | F | S | S |
| --- | --- | --- | --- | --- | --- | --- |
| 28 | 29 | 30 | 1 | 2 | 3 | 4 |
| 5 | 6 | 7 | 8 | 9 | 10 | 11 |
| 12 | 13 | 14 | 15 | 16 | 17 | 18 |
| 19 | 20 | 21 | 22 | 23 | 24 | 25 |
| 26 | 27 | 28 | 29 | 30 | 31 | 1 |
thursday, 1 october
No announcements for selected date