National Assembly of the Republic of Serbia / Activities / Activity details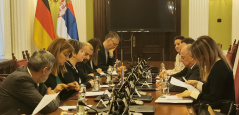 19 February 2020 Member of the German Bundestag's Committee on Foreign Affairs Josip Juratovic and the members of the European Integration Committee and the Foreign Affairs Committee
Wednesday, 19 February 2020 10:36
German Bundestag Member Juratovic Visits European Integration and Foreign Affairs Committees

Member of the German Bundestag's Committee on Foreign Affairs Josip Juratovic visited the National Assembly today where he discussed Serbia's European integration process, regional cooperation, situation in Serbia on the eve of the upcoming elections, bilateral relations between Serbia and Germany and Serbia's foreign policy and the EU with the colleagues from the European Integration Committee and the Foreign Affairs Committee.

---
Juratovic said that Germany wants peace and stability and that almost all the parties in the Bundestag are in favour of the EU accession of the Western Balkan countries. He stated that the new EU accession methodology does not involve new criteria, rather it makes the whole process more transparent. He expects Serbia's European integration process to pick up speed, the summit in Zagreb to come up with an agenda for the region's future and the creation of an agenda for further enlargement by the time Germany assumes presidency of the Union Council.
The Deputy Chairperson of the European Integration Committee Elvira Kovacs said that Serbia expects a lot from the new European Commission and, after the presentation of the new enlargement methodology, considers what would be better, faster and more efficient for it. She reminded the guest that the EU member states' evaluation of Serbia's progress does not reflect the conducted social reforms opining that it is not easy to explain to the people why the accession process is taking so long.
The Deputy Chairperson of the Foreign Affairs Committee Dubravka Filipovski praised the excellent relationship between Serbia and Germany, characterized by regular dialogue and good parliamentary cooperation. She emphasized Germany's important role which, along with France, after Brexit has the leading role in the reform of the EU. Filipovski said that in 15 years Germany donated 1.7 million EU in non-refundable aid, adding that 400 German companies operating in Serbia employ 63 thousand people. She said that EU accession is one of Serbia's foreign policy goals, adding that the country would like it if all of Europe had one voice about the enlargement policy. Speaking about regional cooperation, she opined that Serbia invests a lot into peace and stability in the region, the best example of which is the so-called "mini Schengen", but also highlighted the problems it has in Montenegro and Bosnia and Herzegovina.
Dragan Sormaz, member of both committees, briefed the German colleague on the work of the Serbian and European parliamentarians within the SAPC, cooperation between Serbia and Russia, China and NATO and exchanged opinions on Kosovo-Metohija.
The officials also spoke about the operation of the parliament in Serbia, results of the inter-party dialogue facilitated by the European Parliament and Serbia's coming elections.
The meeting with the member of Bundestag was also attended by Foreign Affairs Committee member Prof. Dr Ljubisa Stojmirovic.

---
---