National Assembly of the Republic of Serbia / Activities / Activity details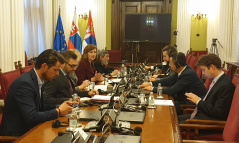 26 February 2019 The members of the Foreign Affairs Committee in meeting with the delegation of the Slovak Parliament's European Affairs Committee
Tuesday, 26 February 2019
Foreign Affairs Committee Meets with Slovak Parliament's European Affairs Committee
Foreign Affairs Committee Deputy Chairperson Dubravka Filipovski and the Committee members met today, at the National Assembly House, with a delegation of the Slovak Parliament's European Affairs Committee headed by Committee Chairman Lubos Blaha.
---
Committee Deputy Chairperson Dubravka Filipovski spoke of the traditionally good overall bilateral relations between the two countries, with no outstanding issues, evidenced by the reciprocal visits of high dignitaries.
The meeting focused on Serbia's European integration, Belgrade-Pristina dialogue, Serbia's military neutrality and the status of the national minorities in both countries.
Dubravka Filipovski said that EU accession is Serbia's strategic goal and the National Assembly majority supports the country's European integration. The Deputy Chairperson said that Serbia greatly appreciates Slovakia's principled support of its territorial integrity and sovereignty and thanked the country for voting against Kosovo's UNESCO bid. This stance shows that Slovakia respects international law and the basic principles of the United Nations, stressed Filipovski.
Speaking of the Belgrade-Pristina dialogue, Filipovski said that Belgrade had fulfilled all of its duties under the Brussels Agreement, while Pristina had fulfilled none, not even the most important one – to establish a Community of Serb Municipalities.
She went on to add that the establishment of the so-called Kosovo Army and imposition of 100% customs tax on goods from Serbia flies in the face of UNSC Resolution 1244.
The Slovak parliamentary delegation asked whether Serbia remains firm in its decision to remain a military neutral country, to which Filipovski said that the 1999 NATO bombing has had a lasting and serious impact both on human health and the environment in the entire region. Serbia is ready to cooperate with NATO, but not join the alliance.
Speaking of the status of the national minorities in the two countries, the officials agreed that it ranks very high, up to EU standards, which is just more proof of the two countries' good and friendly relationship.
The Chairman of the Slovak Parliament's European Affairs Committee Lubos Blaha said that Slovakia supports Serbia's path to the EU and as an EU member states it can help Serbia by sharing its pre-accession experience and offering expert assistance for different negotiation chapters.
He restated that Slovakia remains firm in its principled stance of not recognizing the unilaterally declared independence of Kosovo.
The officials opined that last year's centenary of diplomatic relations dating back to the times of the former Kingdom of Serbs, Croats and Slovenes and Czechoslovakia lent additional momentum to deepening bilateral relations across the board.
Finally, they agreed that reciprocal parliamentary visits would be beneficial to parliamentary cooperation, especially in the fields of defence, culture and economy.
The meeting was also attended by MPs Ljiljana Malusic, Prof. Dr Ljubisa Stojmirovic and Radoslav Cokic.


---
---
| M | T | W | T | F | S | S |
| --- | --- | --- | --- | --- | --- | --- |
| 27 | 28 | 29 | 30 | 31 | 1 | 2 |
| 3 | 4 | 5 | 6 | 7 | 8 | 9 |
| 10 | 11 | 12 | 13 | 14 | 15 | 16 |
| 17 | 18 | 19 | 20 | 21 | 22 | 23 |
| 24 | 25 | 26 | 27 | 28 | 29 | 30 |
| 31 | 1 | 2 | 3 | 4 | 5 | 6 |
sunday, 9 august
No announcements for selected date