National Assembly of the Republic of Serbia / Activities / Activity details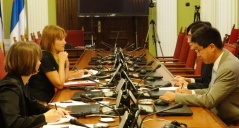 4 September 2015 Foreign Affairs Committee Chairperson in meeting with the newly-appointed Japanese Ambassador to Serbia
Friday, 4 September 2015
Foreign Affairs Committee Chairperson Meets with Newly-Appointed Japanese Ambassador to Serbia
Foreign Affairs Committee Chairperson Aleksandra Djurovic met today at the National Assembly House with the newly-appointed Japanese Ambassador to Serbia, H.E. Juichi Takahara.
---
Aleksandra Djurovic emphasised the importance of parliamentary cooperation between Serbia and Japan, stressing that the two countries enjoy traditionally good bilateral relations despite the geographical distance between them.
Speaking about the reform processes in Serbia, Djurovic said that one of Serbia's priorities is opening the negotiation chapters with the EU and EU accession. She stressed that the National Assembly has reached a consensus on EU accession and added that the talks between Belgrade and Pristina are very important for the normalisation of regional relations.
She thanked the Japanese Ambassador for Japan's continuous humanitarian aid ever since 1999, especially its assistance sent to alleviate the damage done by last year's floods.
The Foreign Affairs Committee Chairperson hopes for an increase of Japanese investments into Serbia. She said that Serbia had invited the speakers of the upper and lower house of the Japanese Parliament to visit the National Assembly, hoping the visit would be realised.
Japanese Ambassador Juichi Takahara said that Serbia has a crucial role in maintaining peace and stability in the region, stressing that he appreciates Serbia's efforts to strengthen good-neighbourly relations. The Japanese Ambassador was also interested in the local and provincial elections in Serbia.
The Japanese Ambassador offered expert assistance as regards environmental protection, healthcare and education, and said that he would urge to organise cultural events to promote Japanese culture in Serbia.
The officials also exchanged views on the current migrant situation and the situation in the region.
They agreed that there is room to improve bilateral economic relations between the two countries.
---
---
wednesday, 23 september
No announcements for selected date