National Assembly of the Republic of Serbia / Activities / Activity details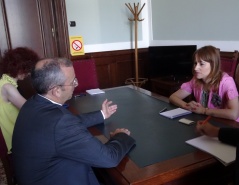 3 July 2015 The Foreign Affairs Committee Chairperson in meeting with the Head of the EU Delegation to Serbia
Friday, 3 July 2015
Foreign Affairs Committee Chairperson Meets with Head of EU Delegation to Serbia
Foreign Affairs Committee Chairperson Aleksandra Djurovic met, at the National Assembly, with the Head of the EU Delegation to Serbia, Michael Davenport, to discuss the Foreign Affairs Committee's activities and priorities.
---
Aleksandra Djurovic said that the foreign policy priorities of the Foreign Affairs Committee are EU accession, regional cooperation and fostering good-neighbourly relations. She also pointed out that the foreign affairs committees of the SEE parliaments – Serbia, Bosnia and Herzegovina, Macedonia Montenegro and Croatia, had been organising joint meetings every six months since 2012. The countries in the region also successfully cooperate within international parliamentary organisations such as the OSCE PA and the Council of Europe PA, said Aleksandra Djurovic. She also briefed the Head of the EU Delegation to Serbia on the activities of the National Assembly's standing delegation to the Council of Europe PA.

Michael Davenport stressed that the EU Delegation to Serbia has excellent cooperation with the National Assembly and the European Integration Committee in particular, adding that it is important to continue to develop cooperation with the other National Assembly committees in charge of issues concerning Serbia's EU accession.

The officials also touched on Serbia's European integration and the progress in the development of the Action Plan for Chapters 23 and 24, as well as modern challenges the European Union deals with and the role of its institutions.


---
---
wednesday, 23 september
No announcements for selected date