National Assembly of the Republic of Serbia / Activities / Activity details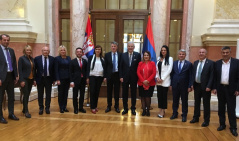 31 October 2018 The MPs and the delegation of the Turkish Grand National Assembly Committee on Foreign Affairs
Wednesday, 31 October 2018
Foreign Affairs Committee Chairman Meets with Turkish Grand National Assembly Delegation
The Chairman of the Foreign Affairs Committee Prof. Dr Zarko Obradovic met with a delegation of the Committee on Foreign Affairs of the Turkish Grand National Assembly headed by Chairman Volkan Bozkir at the National Assembly House today, to discuss intensifying cooperation between the two committees and closer parliamentary cooperation.
---
Foreign Affairs Committee Chairman Prof. Dr Zarko Obradovic welcomed the Turkish delegation, highlighting the two countries' excellent relations as evidenced by the frequent exchange of visits of their highest dignitaries.
Obradovic said that, despite their differing views of the status of Kosovo-Metohija, the two countries enjoy good cooperation across the board. The Committee Chairman emphasized the importance of mutual support in international organizations, especially the Council of Europe. He hoped that the two committees would meet more often as this would encourage cooperation between other committees and help advance parliamentary cooperation in general.
Obradovic emphasized the importance of Turkish investments for Serbia, hoping that, speaking of energy supply, the construction of the Turkish Stream would prove beneficial to Serbia.
The Chairman of the Committee on Foreign Affairs of the Turkish Grand National Assembly Volkan Bozkir said that this was his first visit to the Serbian parliament, adding that visits of this kind need to be intensified to help strengthen parliamentary cooperation. The officials discussed the possibility of having a trilateral parliamentary meeting between Serbia, Turkey and Bosnia and Herzegovina.
Foreign Affairs Committee Deputy Chairperson Dubravka Filipovski spoke up to emphasize the importance of political and economic cooperation between the two countries. She said that the cooperation between the two parliamentary committees on foreign affairs should serve as a best practice example for the other committees. Filipovski opined that there is room for the advancement of cooperation in the areas of education and gender equality.
The parliamentarians agreed that reciprocal visits are essential for the strengthening of parliamentary relations, as well as with the idea of organizing trilateral meetings.
The meeting was also attended by Foreign Affairs Committee members Stefana Miladinovic, Dusica Stojkovic, Jelena Vujic Obradovic and Prof. Dr Ljubisa Stojmirovic.


---
---
tuesday, 31 march
13.00 - press conference of MPs Sasa Radulovic, Branka Stamenkovic and Vojin Biljic (National Assembly House, 13 Nikola Pasic Square, Central Hall)