National Assembly of the Republic of Serbia / Activities / Activity details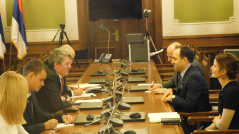 13 February 2018 The Foreign Affairs Committee Chairman in meeting with the Turkish Ambassador to Serbia
Tuesday, 13 February 2018
Foreign Affairs Committee Chairman Meets with Turkish Ambassador to Serbia
The Chairman of the Foreign Affairs Committee Prof. Dr Zarko Obradovic met today, at the National Assembly House, with Turkish Ambassador to Serbia H.E. Tanju Bilgiç to discuss improving interparliamentary cooperation.
---
The Foreign Affairs Committee Chairman opined that that the excellent bilateral cooperation calls for better, more intensive interparliamentary cooperation.
Ambassador Bilgiç said that the two countries' economic cooperation has been on a constant rise in the last few years, with their trade exceeding a billion USD. The number of Turkish investments into Serbia has been rising year after year and in January 2018 a wool yarn factory was opened in Lebane.
The Turkish Ambassador went on to apprise the Committee Chairman on Turkey's current foreign policy affairs.
Finally, the officials agreed that Serbia and Turkey's interparliamentary cooperation could benefit from a meeting and exchange of experiences between the two parliaments' foreign affairs committees.
---
---
Thursday, 21 February
9.15 - National Assembly Deputy Speaker Veroljub Arsic meets with a delegation of the Interparliamentary Assembly on Orthodoxy (National Assembly House, 13 Nikola Pasic Square, library)

10.15 - 13th Plenary Session of the Parliamentary Assembly of the Mediterranean (National Assembly House, 13 Nikola Pasic Square, Grand Hall)