National Assembly of the Republic of Serbia / Activities / Activity details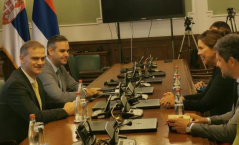 14 October 2022 The Chairman of the Foreign Affairs Committee in meeting with the Swedish Ambassador to Serbia
Friday, 14 October 2022
Foreign Affairs Committee Chairman Meets with Swedish Ambassador to Serbia
The Chairman of the Foreign Affairs Committee and National Assembly Deputy Speaker Borko Stefanovic met today at the National Assembly House with a delegation of the Swedish Embassy in Serbia headed by H.E. Annika Ben David.
---
At the beginning of the meeting, Stefanovic took the opportunity to thank Sweden for its continuous support of Serbia's European integration, adding that Serbia can learn a lot from Sweden when it comes to democracy and the rule of law. He said that, as the Chairman of the Foreign Affairs Committee, he would be submitting a proposal to the Committee and the National Assembly concerning the harmonisation of Serbia's foreign policy with that of the European Union, which would clearly show Serbia's attitude and position as regards the conflict in Ukraine. On that topic, he pointed out that Serbia supports the territorial integrity and sovereignty of Ukraine, adding that even Kosovo-Metohija cannot set a precedent when it comes to the integrity of a state. He underlined that, if the so-called state of Kosovo were to become a member of the NATO alliance, that would again create space for the destabilisation of the Western Balkans which is in noone's interest. He once again stated that Serbia must not be asked to recognise an independent Kosovo and that the dialogue with Pristina has to be continued, because a frozen conflict is not a solution. He informed the Ambassador about his visit to the United States of America, where he met with the Assistant Secretary of State for European and Eurasian Affairs Karen Donfried and US Special Envoy for the Western Balkans, Gabriel Escobar.
H.E. Annika Ben David said that Sweden would continue to provide full support to Serbia in terms of European integration, stressing that Serbia is accordingly expected to fully comply with the Union's foreign and security policy. She added that Sweden would continue to support Serbia through reform cooperation in the areas of environmental protection, gender equality and the rule of law, with Stefanovic adding that the citizens are often unaware that the European Union is Serbia's biggest economic partner.
At the interest of the Committee Chairman, the Ambassador spoke about the parliamentary elections in Sweden, held last month, and reflections on the parliament.
The conversation also touched on media freedom in Serbia, as well as the possibility of an exchange of bilateral visits and contacts at the level of parliamentarians.
The officials went on to discuss the European Commission's Report on Serbia's progress, which will be delivered to the Parliament at the beginning of next week, as well as the constitution of the executive power in Serbia.
---
---
friday, 22 september
9.00 - sitting of the Committee on Finance, State Budget and Control of Public Spending (National Assembly House, 13 Nikola Pasic Square, hall 3)

10.00 - the National Assembly Speaker meets with the Russian Ambassador to Serbia (National Assembly House, 13 Nikola Pasic Square, hall 1)

12.00 - the members of the Foreign Affairs Committee meets with the German Ambassador to Serbia (National Assembly House, 13 Nikola Pasic Square, hall 2)

14.00 - the Chairman of the Foreign Affairs Committee meet with attendees of the autumn school organised by the Belgrade Centre for Security Policy and the German Agency for Civic Education (National Assembly Building, 14 Kralja Milana Street, Blue Salon)