National Assembly of the Republic of Serbia / Activities / Activity details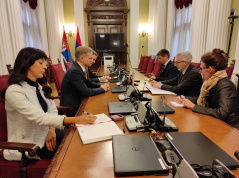 23 September 2022 Foreign Affairs Committee Chairman Borko Stefanovic in meeting with the Ambassador of the Republic of France to the Republic of Serbia Pierre Cochard
Friday, 23 September 2022
Foreign Affairs Committee Chairman Meets with French Ambassador to Serbia
The Chairman of the Foreign Affairs Committee Borko Stefanovic met today with the Ambassador of the Republic of France to the Republic of Serbia Pierre Cochard.
---
Stefanovic informed the Ambassador that in addition to the position of Chairman of the Foreign Affairs Committee, he also holds the position of National Assembly Deputy Speaker and that he would use the opportunity to convene a Committee session at which he would raise the issue of harmonising Serbian foreign policy with the foreign policy of the European Union. He went on to say that the current crisis in Europe can be beneficial for Serbia and the region, as the countries of the Western Balkans would irrevocably position themselves where they belong, and that place is the European Union. "We appreciate France's support on our European path and we want its support to be as clear and tangible as possible for all the countries of the Western Balkans," said Stefanovic. He emphasised that pressure to recognise Kosovo as an independent territory should not be demanded of Serbia, rather negotiations with Pristina must continue in order to resolve all outstanding issues through a binding agreement. This agreement must preserve Serbia's right not to recognise the independence of Kosovo, because such an act would be in contradiction with the Constitution of the Republic of Serbia, the will of the citizens and the national identity of Serbs. He added that the frozen conflict is an unfavourable situation for both sides and Serbia should step back from the politics of symbolism, alluding to the fact that identity cards and license plates are not proof of a country's sovereignty.
The Ambassador said that France is a country that wants to speed up Serbia and the Western Balkans' EU accession process, which it advocated during its presidency of the European Union. He added that the Summit of the European Political Community, to be held in Prague in October this year and which Serbia has been invited to, aims to encourage political dialogue and cooperation as a way to solve issues of common interest in order to strengthen security, stability and prosperity of the European continent. He underlined that having the Summit is not a substitute for joining the Union, but an invitation to find common political solutions that concern all European countries. He pointed out that France supports the dialogue between Belgrade and Pristina and that we must not lose sight of what has been achieved through the previous months' negotiations.
The meeting also touched on an exchange of parliamentary visits, with Stefanovic adding that the Parliamentary Friendship Group with France would be re-established in the coming period, which will be another place for establishing mutual contacts.
---
---
friday, 8 december
No announcements for selected date