National Assembly of the Republic of Serbia / Activities / Activity details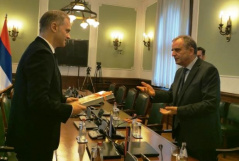 10 October 2022 The Chairman of the Foreign Affairs Committee and the Dutch Ambassador to Serbia
Monday, 10 October 2022
Foreign Affairs Committee Chairman Meets with Dutch Ambassador to Serbia
The Chairman of the Foreign Affairs Committee Borko Stefanovic met today at the National Assembly House with the Dutch Ambassador to Serbia Joost Reintjes to discuss the current issues in Europe, the energy crisis and Serbia's European integration.
---
Committee Chairman Stefanovic expressed his satisfaction at the meeting, opining that there is ample room to advance political dialogue and intensify cooperation between Serbia and the Netherlands across the board.
Borko Stefanovic stressed that EU accession is Serbia's top foreign policy goal, underlining the importance of regional initiatives, such as the Open Balkans, for the mutual cooperation and European prospects of the Western Balkan states.
Ambassador Reintjes agreed that Serbia's place is in Europe, adding that the Netherlands would continue to support it on that path.
The officials also spoke about Kosovo-Metohija, with the Committee Chairman opining that dialogue is the only road to normalisation of relations between Belgrade and Pristina and resolution of all open issues, without the recognition of the so-called state of Kosovo.
The Ambassador was also interested in the current political situation in Serbia, formation of the Government and the National Assembly's work in the coming period. He also wanted to know more about the perspective of adjusting Serbia and the EU's foreign policy.
The officials also exchanged opinions on the crisis in Europe caused by the Ukraine conflict and its fallout, especially in the field of energy.
---
---
wednesday, 4 october
9.00 - sitting of the Committee on Finance, State Budget and Control of Public Spending (National Assembly House, 13 Nikola Pasic Square, hall 2)

10.00 - the National Assembly Speaker meets with the Chinese Ambassador to Serbia (National Assembly House, 13 Nikola Pasic Square, hall 1)

12.00 - sitting of the Culture and Information Committee (National Assembly House, 13 Nikola Pasic Square, hall 4)