National Assembly of the Republic of Serbia / Activities / Activity details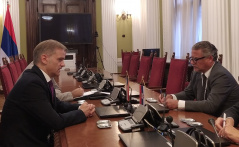 19 September 2022 The Chairman of the Foreign Affairs Committee in meeting with the Czech Ambassador to Serbia
Monday, 19 September 2022
Foreign Affairs Committee Chairman Meets with Czech Ambassador to Serbia
The Chairman of the Foreign Affairs Committee Borko Stefanovic met today with the Ambassador of the Czech Republic to the Republic of Serbia Tomas Kuchta to discuss the current political situation and advancement of interparliamentary cooperation
---
The Chairman of the Foreign Affairs Committee stressed that the Czech Republic is a friendly country and thanked it for its continuous support of Serbia's European integration, opining that the EU is the best place for Serbia and the entire Western Balkans.
In the discussion, Stefanovic and Kuchta touched on the current political situation in Europe, especially the crisis caused by the war in Ukraine, and the current situation in Kosovo-Metohija.
Borko Stefanovic pointed out that Belgrade is trying to normalise relations with Pristina, stressing that the open issues should be addressed through negotiations and that the frozen conflict is not a solution.
Stefanovic went on to outline the priorities of his work in the current National Assembly legislature for the Ambassador.
The officials agreed that there is room to further interparliamentary cooperation, primarily through the activities and exchange of visits of delegations of the two parliaments' foreign affair committees and parliamentary friendship groups.
---
---
saturday, 9 december
No announcements for selected date