National Assembly of the Republic of Serbia / Activities / Activity details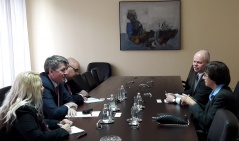 21 April 2017 The Chairman of the Foreign Affairs Committee in meeting with the Ambassador of the Czech Republic to Serbia
Friday, 21 April 2017
Foreign Affairs Committee Chairman Meets with Czech Ambassador to Serbia
Foreign Affairs Committee Chairman Prof. Dr Zarko Obradovic met today at the National Assembly of the Republic of Serbia with the Czech Ambassador to Serbia H.E. Ivana Hlavsova.
---
The officials discussed the coming visit of a Czech Senate delegation in June during which the senators of the Committee on Foreign Affairs, Defence and Security and the Committee on EU Affairs would meet with the members of the National Assembly's Foreign Affairs Committee, Defence and Internal Affairs Committee and the European Integration Committee.

Obradovic and Hlavsova agreed that the two countries' bilateral relations are at a very high level, greatly thanks to their rich common history and mutual appreciation and respect for their stance on issues of national interest.

Hlavsova added that the Czech Republic fully supports Serbia on the path to the European Union and would continue to do so at both the political and expert level.

Obradovic stressed that EU accession is Serbia's strategic goal and thanked the Czech Republic for the support. He added that the colleagues of the Czech Senate are welcome and that meeting them would provide an excellent opportunity to further advance the relations between the two countries and their parliaments.


---
---
Tuesday, 22 May
9.15 - National Assembly Deputy Speaker Prof. Dr Vladimir Marinkovic meets with a delegation of the French Senate (National Assembly House, 13 Nikola Pasic Square, hall 3)

10.00 - the European Integration Committee meets with the delegation of the French Senate (National Assembly House, 13 Nikola Pasic Square, hall 3)

10.00 - continuation of the Fifth Sitting of the First Regular Session of the National Assembly of the Republic of Serbia in 2018 (National Assembly House, 13 Nikola Pasic Square)

11.00 - the Chairman of the Committee on Human and Minority Rights and Gender Equality meets with the Head of the Political Section at the EU Delegation to Serbia (National Assembly House, 13 Nikola Pasic Square, hall 2)

11.30 - the Foreign Affairs Committee meets with the delegation of the French Senate (National Assembly House, 13 Nikola Pasic Square, hall 3)

12.00 - the Chairman and members of the European Integration Committee meet with a member of the German Bundestag's Committee on the Affairs of the European Union (National Assembly House, 13 Nikola Pasic Square, hall 4)

13.00 - sitting of the Committee on Human and Minority Rights and Gender Equality (National Assembly House, 13 Nikola Pasic Square, hall 2)