National Assembly of the Republic of Serbia / Activities / Activity details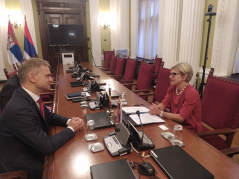 5 October 2022 The Chairman of the Foreign Affairs Committee Borko Stefanovic in meeting with the Belgian Ambassador in Belgrade Cathy Buggenhout
Wednesday, 5 October 2022
Foreign Affairs Committee Chairman Meets with Belgian Ambassador to Serbia
The Chairman of the Foreign Affairs Committee Borko Stefanovic met today at the National Assembly House with the Belgian Ambassador in Belgrade Cathy Buggenhout to discuss the current political situation and Serbia's European integration prospects.
---
Borko Stefanovic stressed that, in these challenging times, it is extremely important for Serbia to choose the right side, adding that, as the Chairman of the Foreign Affairs Committee, he would soon propose to the Committee and at a plenary session a draft document harmonising Serbia's foreign policy with the EU's. He went on to say that the European Union is Serbia's most important economic partner and investor, as well as being important in terms of common values such as equality and social justice. Stefanovic added that without Serbia and the rest of the Western Balkan countries the European Union would not be complete, or stable.
Ambassador Cathy Buggenhout agreed that Serbia, as a European country, belongs in the European Union, adding that expediting the European integration process would in turn boost the Serbian citizens' support for EU membership. She also stated that it is vital to show the real image of Serbia to the European countries, saying that all of its potentials and capacities have not been fully presented.
The officials agreed that regional initiatives such as the Berlin Process and Open Balkans are extremely important both for the cooperation among the countries of the Western Balkans, as well as their European prospects.
Speaking of the situation in Kosovo-Metohija, the Chairman of the Foreign Affairs Committee and the Belgian Ambassador agreed that it is vital to continue the dialogue between Belgrade and Pristina on all open issues.
---
---