National Assembly of the Republic of Serbia / Activities / Activity details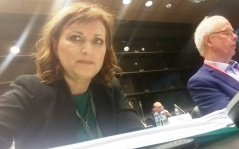 1 March 2019 MP Dubravka Filipovski at the meeting of the PACE Standing Committee
Friday, 1 March 2019
Filipovski Discusses Implementation of Istanbul Convention in Serbia at PACE Standing Committee Meeting
MP Dubravka Filipovski took part in the PACE Standing Committee meeting in Paris on 1 March 2019 where she spoke about the implementation of the Istanbul Convention in Serbia.
---
Serbia was one of the first countries to ratify the Istanbul Convention, in October 2013. Filipovski said that the Law on Prevention of Domestic Violence contains many of the tenets of the ratified Convention and the Criminal Code defines a number of new criminal offenses as described by the Convention, among them stalking and sexual harassment.
That ranks Serbia among the countries with an exceptionally strong legislative framework. In the further implementation of the Istanbul Convention in Serbia, it is of paramount importance that the representatives of state authorities and the civil sector stand united and persevere in the fight against domestic violence and violence against women. There is a lot to be done on the prevention of gender-based violence and to raise awareness of its unacceptability because that is the only way to provide children with a happy childhood spent in a strong family unit.
Filipovski also said that many of the countries which had not ratified the Istanbul Convention contend with societal polarization cause by the opposition of religious communities, which is why it is important to emphasize positive experiences of the countries which successfully implement the Istanbul Convention, Serbia among them.


---
---
| M | T | W | T | F | S | S |
| --- | --- | --- | --- | --- | --- | --- |
| 26 | 27 | 28 | 29 | 30 | 31 | 1 |
| 2 | 3 | 4 | 5 | 6 | 7 | 8 |
| 9 | 10 | 11 | 12 | 13 | 14 | 15 |
| 16 | 17 | 18 | 19 | 20 | 21 | 22 |
| 23 | 24 | 25 | 26 | 27 | 28 | 29 |
| 30 | 31 | 1 | 2 | 3 | 4 | 5 |
wednesday, 4 august
No announcements for selected date