National Assembly of the Republic of Serbia / Activities / Activity details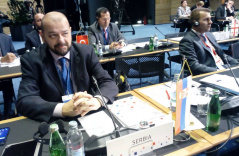 20 January 2020 European Integration Committee member Dragan Sormaz
Monday, 20 January 2020
European Integration Committee at COSAC Meeting
European Integration Committee member Dragan Sormaz is taking part in the meeting of the Conference of Parliamentary Committees for Union Affairs of Parliaments of the European Union (COSAC), held under the auspices of the parliamentary dimension of Croatia's Presidency of the Council of the European Union, on 19-20 January 2020 in Zagreb.
---
Speaking in session I, Sormaz said that Serbia had opened one negotiation chapter in December of last year and currently has additional five ready to open, adding that the EU needs to send a clear signal that Serbia's accession is both attainable and imminent.
The parliamentary representatives of Montenegro, Albania, North Macedonia and Turkey also asked the EU member states for a clear message from that the accession of their countries is imminent.
Croatian Prime Minister Andrej Plenkovic said that one of the priorities of the Croatian Presidency of the EU Council is the continuation of the enlargement policy. In that context, Croatia remains committed to supporting the accession of the Western Balkan countries.
The meeting is attended by delegations of the committees on European integration/affairs of the national parliaments of EU member states, EU candidate countries, member countries of the European Economic Area and representatives of the European institutions.
The participants talked about the priorities of the coming Croatian Presidency of the EU Council and the role of national parliaments in the EU decision-making process.


---
---
friday, 27 january
8.30 - the National Assembly Speaker meets with the EP Rapporteur for Serbia and a member of the EU - Serbia SAPC delegation (National Assembly House, 13 Nikola Pasic Square, hall 1)

9.00 - sitting of the Committee on the Judiciary, Public Administration and Local Self-Government (National Assembly House, 13 Nikola Pasic Square, hall 2)

10.00 - the MPs meet with the EP Rapporteur for Serbia and a member of the EU - Serbia SAPC delegation (National Assembly House, 13 Nikola Pasic Square, Small Hall)

12.15 - press conference of MP Prof. Dr Tamara Milenkovic Kerkovic (National Assembly House, 13 Nikola Pasic Square, Central Hall)